Call Centre Training Course Experts – delivered by industry experts.
No matter how small or large your call centre is, investing in call centre training courses is one of the most effective ways to ensure your call centre is running efficiently and delivering a high level of customer service.
And whilst there is a continual increase in technology and automation creeping into the contact centre, more than ever a customer's whole perception of your brand hinges on the moment of truth when they are talking directly to a call centre agent.
So investing in the right call centre training course becomes a critical component.
At CX Skills that's what we specialise in. We're not a training business or TAFE that offers hundreds of different courses – we are call centre training experts with all our courses designed,  facilitated and continually updated by industry professionals from both Australia and overseas who have managed contact centres in the real world.
Since we launched in 2019 we've trained thousands of staff in both private and public sector businesses in Australia and across the world and the amazing customer testimonials reinforce your training is in great hands.
Why invest in call centre training?
Call Centres/Contact Centres are a critical component of a companies customer experience strategy that is typically there to provide customer service, sales, technical support to support the business in achieving their overall business strategy.
As a result, each call centre typically evolves over time to best meet those requirements and it's rare to ever find two calls centres that operate in exactly the same way.
A call centre providing support for a 5-star hotel can be completely different to a call centre that supports emergency services that is again completely different to a call centre that supports a high volume, low margin business.
There are numerous reasons most companies choose to invest in call centre training courses.
Customer experience – The contact centre is a critical component of the overall customer experience and you can have all your branding, products & services etc perfect but one bad call can undo all the good work. Ensuring your agents are providing the right level of customer service for your business is paramount.
Improved Sales – Many contact centres have a sales focus – from inbound sales, outbound sales, telemarketing, account management and more. Ensuring agents maximise these opportunities will directly contribute directly to an organisation's bottom line (higher conversions and more sales!)
Employee Engagement – As a rule, when you invest in employees they feel valued and engaged. By investing in developing an employees skills is a great way of showing you care about their wellbeing and their future with your business
Empowerment – Ensuring your employees are equipped with the skills and tools to perform their role benefits both your employees and your customers.
Confidence – Have you ever rung a call centre and had an agent who didn't sound confident in the information they provided? It's not a great experience so ensuring your agents have the skills they need, and the chance to practice them will do wonders for both your employees and customers.
Compliance – With many call centre environments now heavily regulated, it's critical to ensure your employees have the skills and tools they need to avoid costly penalties.
Upskill – Investing in an employee's development and teaching them new skills shows that you care about them and those around them. In a call centre, it's not uncommon to promote high-performing agents into a Team Leader role but then provide them with no training on how to lead and manage teams. And then we wonder why they fail?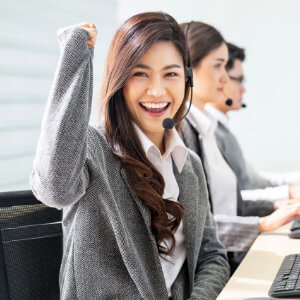 Is it Call Centre Training or Contact Centre Training?
You've probably heard the term contact centre as opposed to call centre and wondered if there is any difference?
Contact Centre is simply a more modern term as most call centres now handle more than just phone calls. Emails, Live Chat, Social Media, Video Chat, SMS and written correspondence are typically all now handled by a contact centre requiring vastly different skill sets than just being able to handle a phone call.
"But we aren't a contact centre"
Unfortunately for some people the word call centre/contact centre has a negative connotation and many businesses will tell you they don't have a contact centre. Rather, they have a customer support team, admin team, customer liaison group and so on.  But in reality, if you have staff who are on the phones a large part of their day then for the purposes of our definition – it's a contact centre!
The good news is regardless of what you call your team, we've still got you covered! We offer a range of specialist contact centre training courses including:
Call Centre Training Costs
Running any call centre training can be an expensive exercise. First, you've got the direct costs for either developing the training programs or hiring a specialist call centre trainer like CX Skills to deliver the training.
But you also have to allow for the lost productivity costs by not having the call centre agent, Team Leader or Manager available during the training.
And then there's the third cost – lack of engagement or worse yet, turnover.
Failing to invest in your employees is almost certain to lead to lower engagement levels which are intrinsically linked to productivity. And, even worse, your employees may leave altogether.
So when considering the cost of the call centre training, make sure you factor in the cost of not conducting any training.
Typically the Return on Investment (ROI) on training will be positive!
With the majority of CX Skills courses, we offer both public and private courses.
The public training courses are perfect if you have small numbers that require training (e.g 1 to 4) and our private courses can be more cost-effective for larger numbers with the added bonus of having more flexibility over the date and times for your training.
Where and How to Conduct Call Centre Training
Pre COVID most contact centre training was conducted in-person, either at your premises or at a public venue that was booked to conduct the training course.
With COVID we've all adapted to online training and now all our courses have been updated to be delivered effectively online without compromising on the training outcomes. That said, life is all about choice now and subject to COVID restrictions at the time, we are pleased to offer the majority of our contact centre training courses via three methods:
Onsite – when COVID allows us to do so, we still offer training on your premises or at a venue we've hired to conduct our public training courses.
Online – all our courses are now delivered online via ZOOM. Whilst prior to COVID we were always advocates of in-person training, over the past couple of years both our students and us have evolved to love online training! It provides a number of benefits over in-person training including:

Less time wasted on travel
Easier to break training into small chunks (e.g. 2 x 4-hour courses)
More cost-effective as there are no travel and facility costs

Self-paced – Most of our training is facilitated live by an instructor however we are now starting to offer some of our courses via self-paced modules comprising of videos, workbooks etc that can be completed at a time and date that suits you for the ultimate flexibility.
Types of Call Centre Training
When it comes to the different types of contact centre training it can be broadly split into these 4 categories:
1. Induction Training
Typically one of the largest costs for any call centre, the induction training typically compromises a range of different components including:
Company culture
Technical Skills (how to use the systems and software)
Product and Services
Soft Skills (customer service, sales etc depending on the role)
Depending on the complexity of the role, it's not uncommon for induction periods to last several months whereas for other call centres it can be as short as a few days.
We offer a range of call centre training courses that can provide the customer service and/or sales soft skills in your induction program so you can focus on your product, services and systems training:
Tip! Using a Knowledge Management System can greatly reduce induction periods. Contact us for free advice on selecting the right system for your business.
2. Fundamentals Training
For employees who are new to contact centres, learning the 'basics' is an important consideration for a successful outcome. We have a number of customer service and sales courses that can teach skills such as:
Getting the greeting right
How to engage with customers/build rapport
Empathy
Active Listening
Call control
Upselling and Cross-selling
We have a variety of courses available (below) that are different durations, topics etc to ensure you get the desired outcome.
3. Refresher Training
Even if you've worked in a role for a long period of time, we all need to fine-tune our skills to ensure we are performing at our best. Whether it's to keep up with industry best-practice or perhaps formal training was never initially provided, we offer a range of refresher courses to support all roles within a contact centre.
4. Specialist Training
Whether it's moving into a new role or learning some new skills, there are numerous specialist jobs within a call centre that require some additional expertise. From Workforce Planning and Quality Assurance through to courses for emerging leaders, high-performance teams, CX Management and more we have a range of courses to expand your skills and set you up for success.
It's true there are a number of training providers that offer call centre training courses. But how many of them can claim to be contact centre experts?
At CX skills that's what we specialise in – all our courses have been designed, updated and are delivered by industry experts with decades of experience. Their knowledge, experience and passion for the contact centre industry is second to none.
But don't just take our word for it – read the customer testimonials that we've received from thousands of our customers. We've also included the latest Google reviews below:
Contact Centre Training Courses
We offer a range of different call centre courses from frontline agent courses, Team Leaders and Managers to specialist courses to enhance particular skills. Simply click on the course button to learn more about the course including costs and availability.
Courses for Frontline Call Centre Agents
The role of a contact centre agent has never been more varied – from service, sales and support skills and now having to learn multiple channels from emails, live chat, SMS etc. We offer a range of courses to develop your contact centre agents with a range of different skills.
Courses for Call Centre Team Leaders
The contact centre team leader is often regarded as the most critical role in the contact centre so ensuring you equip them with the right skills not only sets the individual up for a great career but also ensures that the employees under the team leader also achieve their best.
Courses for Call Centre Managers
The modern contact centre manager is a highly talented individual and to achieve job mastery, they need to be experts in a range of different disciplines. We offer a range of different courses from overall management to enhancing specific skills.
Specialist Call Centre Courses
For those looking to broaden their call centre management skills, we offer a number of courses to provide you with additional skills to compliment and expand your career.
If you've got any questions about our existing courses or would like to speak to someone about a custom-designed course for your business contact us on 03 9008 7287, our team is available 8:30 am to 5:30 pm Monday to Friday AEST.
Alternatively, send us a message and we'll call you back.