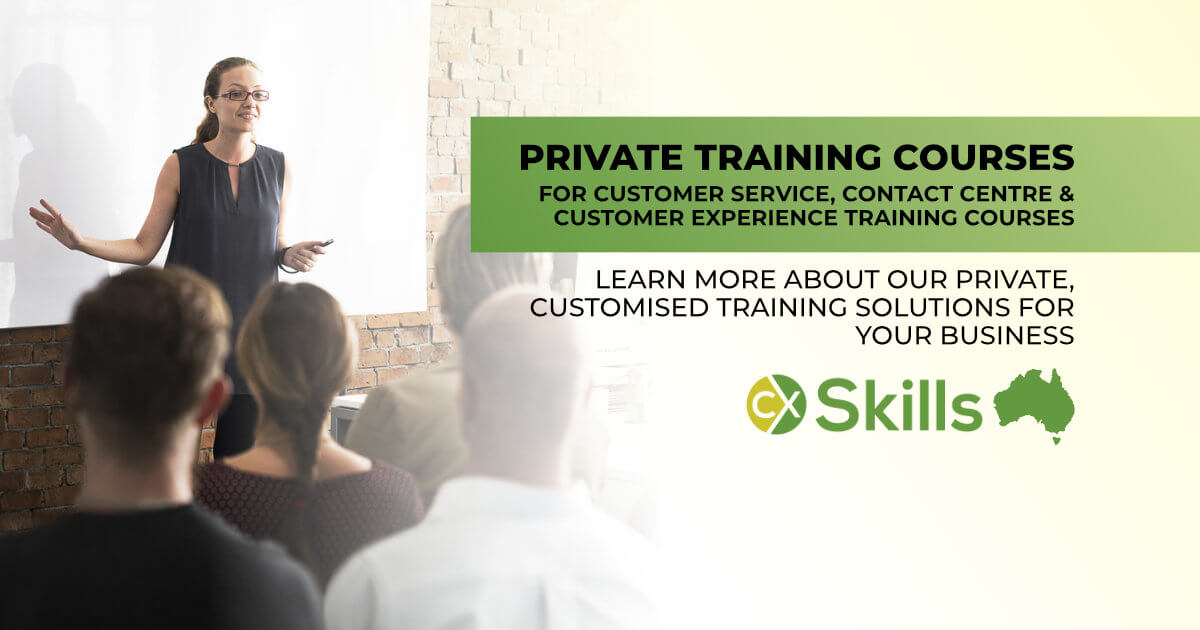 Customised & Private Training Courses
Our customised private training courses have an average rating of 4.8 out of 5 (based on 35 reviews)
CX Skills offers both public courses (anyone can purchase a ticket to a course) and private training courses that are just for your team only.
As whilst our public courses can be a great way to meet others and learn about other industries, sometimes it's more practical (and cost-effective!) to conduct training courses that are designed just for you.
Private training courses can be completely customised or they can be based on one of the existing courses that we teach publicly.
Our private courses can be delivered in the comfort of your own premises or online for people working at-home/remotely or even directly into a training room/boardroom for employees onsite.
We can come to you! Subject to COVID restrictions, we can run courses all over Australia including Melbourne, Sydney, Adelaide, Perth, Brisbane, Darwin and Hobart as well as all over the world including New Zealand, Philippines, Fiji, Thailand, Singapore, Papua New Guinea and more!
Benefits of Private Training Courses
All of our customised and/or private training courses can be delivered online or onsite*.
*Any onsite training is subject to COVID restrictions and additional travel costs may apply depending on the location of your premises, our trainers etc. Please note that currently (2022) with the volatility of COVID and its associated variants, it's still quite difficult to plan too far ahead for any onsite training and travel, particularly interstate and overseas is challenging.
Highly recommend the Customer Journey Mapping course!
Review of Customer Journey Mapping (Private Course)
Shane is a fantastic facilitator who guides you through this practical, hands-on course where you get to create your own customer persona and journey map using Mural, an online journey mapping and collaboration tool. Whether you're new to customer journey mapping or just want a refresher, this course will cover everything you need. Highly recommend!
Organisational Development Business Partner
Canterbury Bankstown Council
Review of Customer Journey Mapping (Private Course)
A great session with Shane giving us some good insights and practise with Customer Journey Mapping.
Organisational Development Lead
Canterbury Bankstown Council
Review of Customer Journey Mapping (Private Course)
I loved that there was a focus on practical learning and how the theory tied in with our discussions. It was great as well to think from a customer point of view as sometimes we can get lost and focus on what the organisation wants to do, rather than what the customer needs. Overall, great learning experience.
Canterbury-Bankstown Council
Available Private Training Courses
Most of the courses you see on our website can be conducted privately either in-house (at your organisation) or online (typically via Zoom) with some of our popular categories below.
Don't see exactly what you need? Click here to see all the upcoming courses or contact us to discuss a customised training solution.