Daniel Ord – The Leading Global Training Expert in Customer Experience and Contact Centres
Dan is one of the leading trainers in the world with nearly 30 years in the Customer Experience and Customer Contact industry with the rare skill set of having earned mastery in three interrelated but distinct domains:
1. The Contact Centre ecosystem including operations, quality, leadership and people.
2. Customer Service where Dan teaches service culture and how to implement and/or improve every channel of communication.
3. Customer Experience with a focus on organisational culture and helping people prepare for Customer Experience certification.
Dan's academic credentials are unsurpassed, Dan is a Certified Customer Experience Professional (CCXP), an ICMI Certified Associate, a Call Centre Industry Advisory Council Strategic Leader, is Net Promoter Certified and was the first to bring professional Contact Centre certification to Asia back in the early 00s.
Over the past 20 years,  Dan has facilitated sessions with more than 50,000 Participants in more than 40 countries (and lots in Australia and Asia-Pacific) through his OmniTouch International business with thousands of powerful testimonials a testament to the quality of the training material and his presentation skills.
Daniel now partners with CX Skills to facilitate his public and private bookings for the Asia Pacific region.
One of only 15 Authorised CXPA Training Providers in the World
In 2019 Daniel became one of only a handful of individuals in the world who are formally accredited as a CXPA (Customer Experience Professionals Association) Recognised Training Provider* and he's the only one who visits Australia on a regular basis (when he's allowed again thanks to COVID restrictions!)
*Recognised Training Provider is the current certification – this is not the same as an Authorised Training partner which is an old, outdated status and is no longer valid.

When you are one of the top experts in the world it's no surprise that people want to hear from you! Daniel is a regular guest on numerous podcasts (including our own CX Central Podcast with local expert Justin Tippett), he chairs conferences all over the world and he's been a judge for countless awards programs across the globe.
And if that wasn't enough, Daniel is also a prolific writer contributing numerous articles on CX Central as well as his own website, and he's well known on the LinkedIn community for sharing his insight and passion into the industry.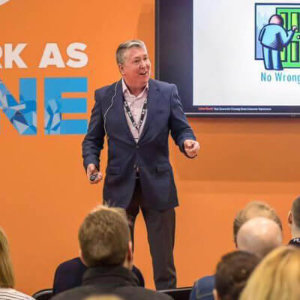 When Daniel isn't working… 
When he's not in training rooms around the world, you'll find Dan inside art galleries & museums, taking long walks (he's known for going on some very LONG walks!), reading, writing and sampling some of the beautiful wineries in his neighbourhood.
Art also runs in Daniel's blood – he previously owned an art gallery in Singapore so it's fair to say he would be one of few the people in the world who is a world-leading CX trainer by day, and an art connoisseur by night!
Born in America, Daniel moved to Singapore in his late 30's and he liked it so much, he stayed! Daniel became a long-term resident of Singapore for 20 years forming a great base for training across the world as well as establishing great networks across the Asia-Pacific region.
After 20 years in Singapore, Daniel relocated to Germany in 2019 to join his partner and in between training courses, he spends his time walking through the local villages, sampling the local wineries and of course taking in the beautiful views.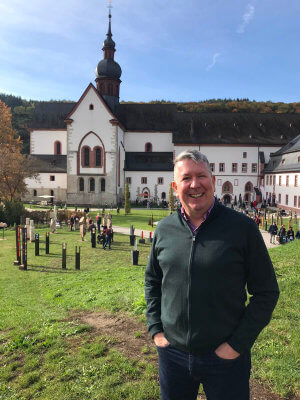 It's easy to show off an impressive list of certifications and highlight his extensive work and training experience but the thing that stands out the most about Daniel Ord is his absolute passion for helping people become better contact centre and customer experience practitioners.
His passion, experience and amazing stories and examples really are what really sets Daniel apart from other trainers in the world, and it's the student's testimonials that are Daniel's proudest achievements.
There is a selection of customer testimonials below and you'll find more specifically related to each course on the course pages.
"I have been to a great number of courses and have seen many very professional trainers delivering great content and can say with confidence that both content and the way you present really stand out.
You have managed to create a really immersive and very engaging energetic atmosphere during the course.
I really enjoyed the collaborative style of the workshop with constant two-way exchange.
Listening, thinking, discussing, raising and answering questions – all that made the course very interactive and made sure the material really sank in.
Another important aspect for me was that you generously shared with us a great amount of real-life examples from your own consulting practice. It made the material vivid and live. Again, it makes a huge difference.
Running a two-day workshop may be exhausting I know it from my own experience, but you really made it feel easy for us thanks to your constant positive energy and a good working rhythm that you kept through the whole length of the class."
– Maksim Lukascuk, Sales Engineer Manager, Avaya
"The best three days I've spent in training for a long time! This course is the 'gold standard' for Customer Experience Professionals looking to sharpen their skills and understanding of the six core competencies needed to effectively lead and transform their organisation's Customer Experience" Mike Whittaker, Manager Customer Service, City of Casey

"I loved the training! I'd been looking for this type of training for some time and it certainly exceeded all my expectations. A great opportunity to learn the fundamental principles and frameworks behind Customer Experience and Daniel was a great presenter!" Katrina Hassett, Student Services Manager, Gordan TAFE 
The CX competencies training was a real eye-opener for me! As the head of the call centre channel, my focus has traditionally been on my team but this course has enabled me to see the bigger picture and provided me with the skills and framework to apply CX strategies and thinking across our entire business. Maureen Wanu, Head of Customer Contact Centre, Bank South Pacific Limited 
It is one of the best courses I have done in my career. It was all so relevant and logical. My challenge now will be 'where to start'! It was great meeting everyone and hearing their stories too. Christine Stuart, Capability Manager, Contact Centre Branch, Water Corporation
More Customer Testimonials
Without a doubt, Daniel Ord is one of the most switched on training consultants I have worked with in respect to service delivery. Daniel grasps exactly what it takes to not only motivate and skill teams in order to deliver service excellence; he also knows which levers to pull for you to differentiate your brand from those around you. Clark Harris,  Senior Director of Global Marketing at Interface
Dan conducted High-Performance Management Training for Maybank Group Customer Care that I found extremely valuable. He demonstrated high level of expertise & his presentation was clear and immediately actionable. His style was open & inviting to questions and willing gave his time in responding to question thoroughly. Dan is extremely enthusiastic about his work which is infectious. I strongly recommend him for any training he has through his company omniTouch. Thank you, Mr Dan. Truly an experience and will definitely help me to improve our working culture." Prakash Naidu Perumal, Manager Customer Experience – Customer Contact, AIA Berhad
"Daniel is one of the most experienced contact centre industry experts and enthusiastic speakers I have met or worked with. His passion for the contact centre industry and deep insights into the operations and management impressed me the most, and his training sessions have always been both knowledge and skills enriched and inspiring and enlightening!" Houdong Wang, Independent Trainer and Consultant
I thoroughly enjoyed the course and for me personally, I rank the course as the best one I have done throughout my career. Clare Hagioglou, Senior Systems Officer Customer Service, Customer & Digital, City of Casey
"I loved this course and Daniel's approach. Daniel is an amazing guy and the way he trains is amazing." DKSH Asia Pacific
"We hired Daniel and his organisation to support our efforts in the call centre space at regional level. They provided strategic guidance, helped setup the service and service offering model and provided training to all our staff. It was all done in an extremely professional way, understanding our own business realities and not applying a predefined solution. A pleasure to work with Daniel…and with his help we have won already few prizes on Customer experience and more importantly, business growth is significant as per agreed plan. Thanks Daniel and team !" Lluis Ferre Nadal, VP Sales and Marketing Asia
Vodafone Fiji being South Pacific's most advanced & leading telecommunications service provider, was leading its way towards the digital transition of most of its services & operations. This meant digitizing it's customer touchpoints & thereby getting our staff up to speed in serving these customers using the new channels. So that's where we reached out to an expert in this trade to assist us in this journey of coaching our CC staff. Daniel Ord did a fantastic job & the results were visible during the program itself. That's one of the fastest turnarounds I've seen from a coaching program!  Rizvi Amith, Heading the Digital Business & Service Innovation for Vodafone
"Daniels' got to be the best Trainer I've ever had in my life – KUDOS TO HIM!!! Thank you so much for the great teaching. Really appreciate it!! Singapore Ministry of Manpower
"It was amazing how Daniel broke things into clear perspective and was enlightening to see how he guided us in managing quality for the purpose of service excellence." UUM Malaysia
"Very engaging and Daniel is very humorous and a nice guy. Learned a lot on motivating employees effectively. Thank you!" Sompo Singapore
Private and Public Training Course Options
Many of Daniel's course are conducted publicly enabling you to send as many as one person or multiple with a list of all of Daniel Ord's upcoming public courses listed below.
Daniel is also available to conduct private training courses (either in person or remotely) which enables more flexibility with delivery, the ability to customise content to align specifically to your business and for larger groups it can also be more cost-effective.
All of Daniel's bookings for the Asia Pacific region so i
f you'd to like book Daniel for one of your training courses please contact us on +61 3 9008 7287 or email us >