Introduction to CX – April 2021
April 27 @ 1:00 PM

-

April 28 @ 5:00 PM

AEST
|
$497.00
Course Navigation
Introduction to Customer Experience (CX) April 2021 online training
New course and special introductory rate!
There are a lot of professional CX folks out there working to deliver insights that their Organisations can use to improve Stakeholder value – across Customers, Employees & the Organisation.
But the CX Team represents only a few folks across Organisations with dozens, hundreds and even thousands of Employees.
And it takes everyone in the company to make great CX outcomes happen.
So we created this special Introduction to CX program to help everyone contribute to great CX outcomes.
Drawn from our international CX Management / CCXP Exam Preparation Workshop, our Introduction to CX isn't only content rich – it's fun.  We cover what CX is, what it looks like and why it matters.
Your Participants will go back to work with depth & breadth in CX– which helps turn the conversations in your Organisation to 'how can I help you get there'.  Not just 'oh no, another transformation.'
Let us help you inspire the people around you – in Customer Service, Marketing, Finance, IT, Engineering, Procurement, Legal and more – to care about your CX ambitions.
Who should do this course?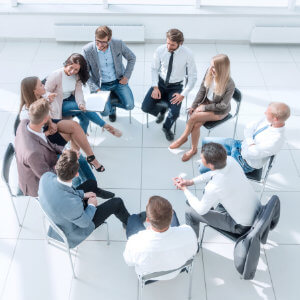 In short, the Introduction to CX April 2021 online training course is designed for anyone who wants to learn more about CX.
We've been teaching CX courses since 2001 and whilst many of our Participants seek to become CX Leaders and Consultants, it's also becoming clear that there are others who want to increase their awareness and understanding of CX practices and principles without striving to be a CX practitioner.
The Introduction to CX April 2021 online training course is delivered over two consecutive days (four hours each day) to fast-track CX Learnings with typical attendees for this course including:
Senior Executives and Managers who want to understand the various components of CX and how and why it's critical to business success.
Contact Centre and Customer Service professionals who want to broaden their understanding of Customer Experience (CX) and improve their career opportunities.
CX Leaders & CCXPs who want colleagues & employees in their organisation to better understand CX in a practical, motivating & engaging way.
Sales and Marketing professionals who want to broaden their understanding of Customer Experience and why it matters.
If you are looking to become a CX practitioner or consultant, want a deeper level of CX understanding and/or prepare for the CCXP exam we recommend the more advanced Customer Experience Fundamentals Course (which is a 16-hour course) >
The CEO of CX SKills Justin Tippett interviews the course facilitator, Daniel Ord, to provide an overview of the course.
Why your trainers experience matters
In this Introduction to CX April 2021 online training course, you'll learn directly from renowned global CX trainer Daniel Ord from OmniTouch International, one of only 15 CXPA Recognised Training Providers* in the world and as you'll note in his numerous testimonials, Daniel is widely regarded for his wealth of knowledge, engaging presentation style and real-life stories that bring the learnings to life!
A 30-year industry veteran, Daniel has spent the last 20 years facilitating workshops as part of his global Omnitouch International training business that helps people deliver better Customer Experiences.
By choosing a CXPA Recognised Training Provider*, you are assured that the training you receive is from a provider recognised by CXPA as having the qualifications, skills, and commitment to providing quality Customer Experience training that will enhance your CX knowledge.
Like to learn more about Daniel? Read some of Daniel's articles on CX Central, listen to some Podcasts on the CX Hustle or view Daniel's profile on LinkedIn.
*Recognised Training Provider is the current certification – this is not the same as an Authorised Training partner which is an old, outdated status and is no longer valid.

Introduction to CX Course Modules
The Introduction to CX April 2021 online training course is delivered 2 x 4 hour online sessions and includes the following modules:
Module 1. Understanding Customer Experience
Customer Experience isn't Customer Service on steroids. And it's not about buying the latest technology or offering another channel.
It's about understanding the Customer's perception of your organization and then proactively doing something about it.
The Building Blocks for CX
Defining Customer Experience
Looking at CX 'from space'
How to use the Customer Lifecycle & Stages
The role & value of Journeys
The role & value of Touchpoints
The role of prioritization in CX
Customer Expectations
Drivers of Customer Expectations
Shaping Customer Expectations
Customer Expectations & Journeys
Physical & emotional Customer expectations
The CX Pyramid and how to use it
The Jobs to Be Done paradigm
Module 2. What kind of Experience will we deliver?
There isn't just 'one' kind of experience.  Crafting & communicating the CX Vision makes sure that everyone in the Organization knows what kind of experience we will deliver.
And we have to consider both who we are – and what Customers want – to put together that great CX Vision we can all rally around.
The CX Vision
The 4 elements of CX Strategy
Defining the CX Vision
The CX Vision and Values
Inputs to the CX Vision – Who we are
Inputs to the CX Vision – Voice of Customer
The role of Voice of Customer
Setting Employee Standards with a CX lens
Module 3. Customer Service & Culture
There continues to be confusion between 'what is CX' and 'what is Customer Service'.  The answer to this question changes the entire way an Organization looks at CX – and Customer Service – and leverages on both.
And Culture is what unites everyone – but what is it and how do we get there?  In this section, we figure that out.
Customer Service
The difference between Customer Experience & Customer Service
What CX professionals can learn from Customer Service professionals
Defining Customer Service for everyone
Culture
Defining Culture
The role of cultural beliefs
The role of Values in Culture
The role of Hiring in Culture
The role of Socialization in Culture
Rituals, Storytelling & Training
Formal & Informal Rewards
Module 4. CX as a Business Discipline
CX is about a lot more than just 'being nice' to Customers.  It's a formal business discipline with specific & specialised know-how required.
The Organisational competencies for CX have been well established and are important to understand.
The Business Background for CX
The historical & market drivers for CX
CX as a business discipline
The role of metrics & outcomes
Stakeholders for CX
The 6 CX competencies and what you need to know about each one
Experience Design, Innovation & Improvement
Metrics, Measurements & ROI
Organizational Adoption & Governance
Customer-Centric Culture
Putting it all together – what CX maturity looks like
On completing the Introduction to CX April 2021 online training course you will:
Understand and be able to explain the definition of Customer Experience.
Be able to describe the essential building blocks of Customer Experience.
Recognise the difference between Customer Experience and Customer Service and why that matters.
Learn different models for understanding how Customers perceive their experience.
Understand the process of developing a CX Vision.
Understand CX as a business discipline and how it fits in with organisational success.
Understand the 6 CX competencies.
Understand key maturity points for CX.
Have worked through exercises that allow you to apply concepts to real-world scenarios.
Have enjoyed a forum for interaction, sharing and dialogue with others.
The online training sessions are delivered via Zoom teleconferencing with the dates and times for the Introduction to CX online training course as follows:
Prior to COVID, Daniel regularly travelled the world conducting his training courses and as was previously based in Singapore for 20 years, Daniel was a popular trainer across the Asia-Pacific region including numerous visits to Australia.
With COVID making travelling difficult for the foreseeable future, all of our courses have now been transitioned to online.
The added benefit is that has now removed the physical barrier to course attendance and we've been thrilled to welcome students from all across the world to our recent courses and with the Australian Time Zone (AEDT/AEST), the course is suitable for a range of different countries.
And with each online session a maximum of four hours (including a few breaks), it still enables you to stay on top of things at work or home!
The courses are conducted via ZOOM with the course link provided after the bookings are confirmed.
CX Skills is a specialist training business that only delivers customer experience, customer service and leadership related courses facilitated exclusively by industry professionals. Our main website, CX Central is Australia's most trusted website for contact centre and CX professionals in Australia and we also manage the popular Call Centre Legends Facebook page followed by over 30,000 call centre employees.
As well as training solutions, we also provide CX & Contact Centre consulting services using the same practices, processes and methodologies that we use in our training courses so you can rest assured you'll be learning best-practice skills that work in the real world.
Our Introduction to CX April 2021 online training course is available publicly meaning anyone can attend with the dates and times fixed so you can plan ahead.
This course is also offered privately which can be cost-effective for larger numbers and a great tool for driving organisational-wide CX transformation change by getting everyone on the 'same page' as well as having more flexibility with dates and times to suit your organisation.
Learn more about our private courses >
If you've got further questions about the Introduction to CX April 2021 online course or would like to discuss private training courses contact us on +61 3 9008 7287 AEST/AEDT Monday to Friday or send us a message >
Tickets to the Introduction to CX April 2021 online course can be purchased using a credit card, direct bank transfer or via invoice (the course must be paid in full prior to course commencement). Just select the number of tickets you require at the top of this page.