The GOLD STANDARD Customer Experience Management Course 
Fast-track your CX Skills and/or CCXP Exam Preparation
With Customer Experience (CX for short) the hottest topic in business right now, there are significant opportunities for individuals armed with the latest skills to position themselves as a CX Management leader and drive change based on a customer-centric culture to deliver real, measurable results.
In this comprehensive 18 hour course delivered via 4 x 4.5-hour live Zoom sessions, you'll learn the five core customer experience management skills and strategies based on the Internationally recognised CCXP certification (Certified Customer Experience Professional) ensuring the skills you learn are aligned to globally recognised best-practice techniques.
And whilst this course serves as the perfect preparation for those thinking of sitting for the CCXP exam (approx 30% of those who have previously completed this course have a 100% pass mark!), you don't need to apply for the CCXP exam – these are global CX Skills with or without an exam.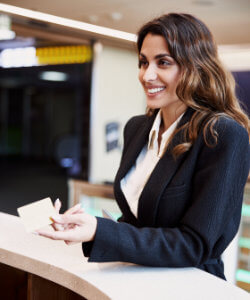 In this Customer Experience Management Fundamentals course, you'll learn directly from renowned global CX trainer Daniel Ord from OmniTouch International, one of only 15 CXPA Recognised Training Providers* in the world. As you'll notice in the testimonials, Daniel is widely recognised as one of the most dynamic, knowledgeable and engaging CX trainers in the business!
Why is that important?  By choosing a CXPA Recognised Training Provider*, you are assured that the training you receive is from a provider recognised by CXPA as having the qualifications, skills, and commitment to providing quality Customer Experience training that will enhance your CX knowledge.
So whether it is to prepare for the CCXP exam, or wanting to learn how to develop a CX strategy and use CX to transform your business, this CX Management Fundamentals course ensures you are armed with the practical skills and knowledge on how to immediately start putting the customer at the centre of your business leading to better business outcomes.
*A global CXPA Recognised Training Provider has to go through a stringent qualification and testing process and it replaces the old Authorised Training Provider which is no longer supported or endorsed by the CXPA.

18 Hours of Facilitated Learning (Delivered over 4 x 4.5 Hour Online Sessions)
The truth is there is a lot to learn in Customer Experience Management. Daniel Ord has been training CX courses since 2001 (one of the longest CX training providers in the world) and our CX management training course has been constantly refined to deliver an optimal training format that provides a perfect balance of theory, practice and most importantly, lots of real-life examples and stories to bring it all to life.
Each course includes a comprehensive manual and we include lots of examples, case studies, frameworks and learnings that will continue to be a great reference point long after the course has been completed.
The CX Fundamentals course is delivered over four consecutive days to maximise learning outcomes as our experience suggests that leaving too much of a break between the sessions dilutes the effectiveness of the training.
Workshop 1. Getting to the Heart of CX
CX isn't Customer Service.  It's not a better website or even a better buying experience.  It's about transforming the Customer's perception of everything you are into something meaningful, actionable and tangible.  CX Know-How helps make that happen.
Workshop 2. The CX Strategy & Voice of the Customer
Who are we?  What do we represent?  Do our people know who we are?  And who are our Customers? What do they expect?  Crafting a CX Strategy that operationalises & supports Organisational strategy and brand and considers the needs of Customers is where it begins.
We listen – we learn.  And that means a thorough understanding of listening tools & practices.  Quantitative surveys, Qualitative Research, tapping on multiple sources, making insights & results 'real' to people through Personas & Journey Maps.
Whether it's ethnography, social media or a relationship survey, Voice of Customer is how we listen and learn.
Workshop 3. Experience Design & Metrics
When it comes time to innovate or create new experiences, human-centred design helps us come up with solutions we may have never thought of before.  It's not sitting around a table brainstorming.
It's a stakeholder inclusive approach used to solve problems for humans by including them each step of the way.
And Metrics matter.  Because they inform us of the success of our strategy and its implementation.  What objectives to choose, how to look at ROI, which experiences to measure, assembling data analytics that make sense and considering how to get action taken across the Organization.  These are the elements of Metrics, Measurement & ROI.
Workshop 4. Governance & Culture
Should we have a Chief Customer Officer?  If so, what is their domain?  What are the characteristics for success?  And how can we tell if our Organisation takes Customer Experience seriously – that's where Governance & Organisational Accountability come in.
It's the sum of all the formal decisions made by our Organisation around Customer Experience.  And it can be seen.
Culture can also be seen.  It's observable.  But what goes into crafting & building a Culture that includes Customers?  It's both surprisingly easy and difficult at the same time.
Hiring, Socialisation, Cultural Beliefs, Rewards.  Do we treat Customers right because we're paid to?  Or because it's the right thing to do.  That's where Culture comes in.
The perfect segue to gaining your internationally recognised
Certified Customer Experience Professional (CCXP) credentials.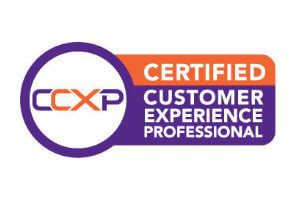 Watch the Video on CCXP
Founder of CX SKills Justin Tippett interviews the facilitator of the CX Management Fundamentals course Daniel Ord covering many of the questions people want to know about the CCXP and the overall course.
Closed Captions/sub titles are available for this video – just click the option at the bottom of the video.
Who should do this course?
As Customer Experience is still an emerging discipline for most businesses, the course will benefit any role that is looking to learn how to use Customer Experience as the vehicle to deliver better business outcomes.
Typical roles this course may be suitable for include:
General Managers & Business owners looking to expand their CX skillset and learn how the various components of CX and how collectively they can be used to transform any business.
Customer Experience (CX) Managers working towards obtaining the internationally recognised CXPA certification and preparing to sit for the CCXP exam.
Customer Experience consultants and practitioners looking to validate their mastery and learn some new skills.
Customer Service/Call Centre Managers wanting to broaden their skillset beyond the call centre.
Marketing Managers wanting to learn more about how they can influence the customer journey.
The skills you learn are applicable globally – we continually have students join us from all over the world including Australia, Singapore, Hong Kong, UK, USA, Germany, France and more!
Prior to COVID, Daniel would conduct this training course in-person having been a frequent visitor to Australia over the past 20 years.  Of course, overseas travel is off the agenda for the short term but the benefits of having a sound CX strategy for businesses has never been greater.
This course has now been adjusted to be delivered online via 4 x 4.5 hour sessions with Daniel conducting each session live from his base in Germany (even though he's actually American – it's a long story!).
Recent participants who have completed the online version of this course have still rated it 5 stars and the feedback has been overwhelmingly positive with one of the benefits that it provides a chance to pause in-between sessions and allow some of the content to be 'digested', facilitating even greater conversations and learnings than would otherwise be possible in the physical course.
We've also had a much more diverse group of attendees than would be possible in person with course participants joining us from all over the world including the UK, USA, Germany, Hungary, Malaysia, Singapore, New Zealand, Hong Kong and of course Australia which has added enormous value to the sessions.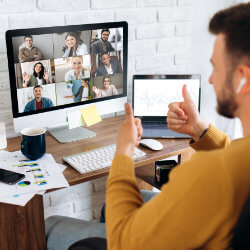 The FIVE core CCXP competencies you'll learn
This Customer Experience Management Fundamentals course is designed to equip you with skills in the following five core Certified Customer Experience Professional competencies (that are aligned to the CCXP entrance exam) administered by the CXPA (note that in late 2021 the CXPA refined their 6 competencies into 5). We still teach the six categories!
1

. Customer Experience Strategy
The CX strategy defines and describes your intended customer experience, how it links to your overall objectives and how it aligns to your brand values and attributes.
2. Customer-Centric Culture
Learn the building blocks of establishing a customer-centric culture across your business.
3. Voice of the Customer, Customer Insight, and Understanding
Customer understanding is the thing that replaces everyone's best guess about customers with real actionable insights using qualitative and quantitative research.
4. Organisational Adoption and Accountability
How to ensure your organisation acts on customer insights.
5. Experience Design, Improvement, and Innovation
Learn how to create new experiences or modify existing experiences that will help Stakeholders achieve their objectives.
6. Metrics, Measurement and ROI
Learn how to choose the right CX Metrics and how to do the analysis and get the results out there including data architecture, Return on Investment and Principles of Customer Valuation.
What happens in the course?
In the CX Management Fundamentals Workshop, over the 4 workshops we will:
Provide a strategic understanding of each of the six core customer experience competencies (as detailed above).
Share examples, case studies and stories around each competency.
Provide practice quizzes for each competency domain.
Document how the competencies interrelate with each other.
Understand how to establish the business case for CX.
Address the roles & practices around Personas, Journey Maps, VOC & VOE programs.
Build out exercises that allow participants to apply concepts to real-world scenarios.
Provide a forum for interaction, sharing and dialogue.
We also provide a comprehensive amount of follow up information post the course so you'll have a great resource library of CX material to continue to learn from.
Gain Globally Recognised CXPA Certification  
This course is the perfect prerequisite to equip yourself with the industry-leading certification for Customer Experience professionals known as the CCXP accreditation (Certified Customer Experience Professional).
Participants who complete this course are not required to take the CCXP Exam however should you decide to pursue the accreditation, this course is considered the ideal exam preparation as it uses the same style and format to give you the best chance of success. In fact, everyone who has completed this course and gone on to sit for the exam has passed!
The Certified Customer Experience Professional credential – 'CCXP' proves your mastery of the 5 Customer Experience competencies identified by the CXPA as critical for CX professionals.
There is a cost to sit the exam and you will be required to do some additional study to finalise your preparation for the exam (mostly consisting of some additional reading) – you can find out more about this on the CCXP website >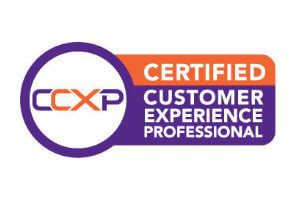 Your free one-hour private CCXP Exam Coaching session!
You don't get to become a Recognised Training Provider without having an absolute commitment to helping people on their Customer Experience journey.
Daniel Ord includes a free private one-hour CCXP Exam coaching session for anyone who has completed the course and then decides to go forward and sit for the formal CCXP exam.
This is purely a coaching session designed to help you pass the exam – it's not a sales pitch, an exploratory consulting session to 'learn more about your business', a career counselling session and so on. It's simply designed to help you prepare as best you can to sit the exam (there is cost each time you sit for the exam) so you can ask questions, go over any items your unsure of, test your knowledge etc.
It's been a popular choice for a reason – Daniel is yet to have anyone not pass the exam who has completed the course and had their free 60-minute CCXP Exam Coaching session!
Daniel Ord is one of the leading global voices in CX management with Daniel regularly sharing his expertise as a keynote speaker on some of the worlds biggest stages as well as a regular judge in industry awards,  author to countless articles and a guest on numerous podcasts across the world as a CX expert.
A 30-year industry veteran, Daniel has spent the last 19 years facilitating workshops as part of his global Omnitouch International training business that helps people deliver better Customer Experiences.
Daniel is one of only 15 people globally to have earned the Recognised Training Provider status from the Customer Experience Professionals Association (CXPA) for delivery of CX Management workshops and is widely regarded for his wealth of knowledge, engaging presentation style and real-life stories that bring the learnings to life!
But it's the testimonials he's most proud of.  He's received thousands of positive testimonials over the years – many of which can be found on his LinkedIn profile and on his company website omnitouchinternational.com
Like to learn more about Daniel? Read some of Daniel's articles on CX Central, listen to some Podcasts on the CX Hustle or view Daniel's profile on LinkedIn.
As a global CXPA Recognised Trainer Provider, if you decide to sit for the exam we will also supply you with an exclusive 15% off coupon voucher to join the CXPA and the exam fee saving you over $100 USD!
Enlightening and educational delivered by an expert
A professional course taught by a professional. Everyone in the course was involved. Daniel was well knowledged, and patient. He gave us plenty of examples and said we could reach out to him in the future for any doubts or questions we might have.
Great course that provides a comprehensive overview of the fundamentals of CX
Daniel is a terrific communicator that is very focused on making sure that everyone has the opportunity to get what they need. This is a great course for those that are both beginning their CX journey as well as those that want to reinforce and refresh their approach to CX. It is a very logical and structured course that I would not hesitate to recommend to anyone interested in this growing field.
Highly recommend!
Great course and deep dive into strategic CX management. Daniel Ord is an expert facilitator and was well supported by Marcus as they guided our dynamic group of participants through the competency framework. Highly recommend!
Putting the CXy in Customer Experience!
I'm new to the world of CX and now have a house for me to keep my acquired learnings! I felt like I had some basic Ikea furniture in my house before, but the course has given me the appetite and courage to go for more artisan pieces.
Who knows? Maybe Wedgewood is in the horizon! Both Daniel and Marcus are such engaging presenters and so knowledgeable. Highly recommended!
Very engaging
Daniel was very engaging, informative and very easily qualified statements that were questioned by his audience.
Thoroughly enjoyed this course!
This course was very true to its name and provides a comprehensive overview and understanding of the six competencies of successful CX Management. The facilitator was extremely engaging, exceptionally well versed in the theory and allowed for some very rich contributions and shared learnings from across the group. Highly recommend for anyone looking to expand their knowledge in this space and those looking to pursue CCXP accreditation.
Really enjoyable and engaging CX course!
I really enjoyed the CX Management course run by Daniel Ord & facilitated by Justin Tippett. It was done over Zoom and separated into 4 x 4-hour sessions which felt just right in terms of length. Daniel's a great trainer and the course helped prepare me for the CCXP exam. It's also provided a more holistic understanding of Customer Experience, increasing my confidence in this space so I'd highly recommend.
Fantastic course
I learnt a lot about CX and the course gave me clarity on the 6 main competencies. The training was fun, enjoyable, I can recommend to anyone who is passionate about the "Customer" subject. Daniel is very knowledgeable and experienced, he used real-life business examples to understand both the strategic and tactical elements of CX. He also involved us which generated even more credibility.
A fundamental course for any CX Professional
This course is absolutely fundamental to anyone dealing with customer experience, the customer journey and also customer service departments. The course is packed with real-life examples illustrating the 6 pillars of customer experience! Dan shares all his knowledge and expertise freely and with great love and enthusiasm for the subject matter!
Highly Recommend!
The CX Management Fundamentals course was exceptional, a balanced blend of best-in-class examples and theory. Daniel was the utmost professional, sharing his wealth of knowledge in customer experience and contact centre management. The content was relevant and covered an array of business examples. A course that exemplifies two-way participation (no death by PowerPoint). The diverse group of attendees had the opportunity to share their experiences and knowledge, which was priceless. I highly recommend this course for anyone in the customer experience realm, even beginners like me.
Very informative and great discussions
Learning online can have challenges, however, the course was well planned and paced. A lot of information covered and well explained. Lots of question and discussion opportunities were made, which added to the knowledge sharing.
Loved this course!!!
I'd been looking for this type of training for some time and it certainly exceeded all my expectations. A great opportunity to learn the fundamental principles and frameworks behind Customer Experience and Daniel was a great presenter!
Great course to learn the bigger picture of CX
The CX competencies training was a real eye-opener for me! As the head of the call centre channel, my focus has traditionally been on my team but this course has enabled me to see the bigger picture and provided me with the skills and framework to apply CX strategies and thinking across our entire business.
The Gold Standard for CX Professionals!
The best days I've spent in training for a long time! This course is the 'gold standard' for Customer Experience Professionals looking to sharpen their skills and understanding of the six core competencies needed to effectively lead and transform their organisation's Customer Experience
"Daniel is a demonstrated expert and champion of CX. He demonstrates his passion for excellence with such humility and empathy and does so much to help people grow in this area. He's an amazing facilitator and has a unique way of connecting the dots in a way that allows people from diverse background to understand the inner workings. It's been a privilege to know him." 
"Daniel brings intelligence, good humour, creativity and financial discipline to everything he addresses. 
"Love the way it was structured with perfect examples & stories to highlight/define each competency"
"Many great moments of insights and perspectives"
"Daniel was knowledgeable, fun and super engaging and I didn't have one single moment of boredom throughout the course"
"Daniel makes it interesting with his experience and knowledge, a great investment!"
"Very fulfilling and helpful knowledge to aid my understanding on how to survey customers"
"The journey mapping is extremely useful as it allows me to have a more systematic way of looking at things from a customer perspective"
"Perfect pace – not too fast and totally focussed on the learner's experience"
CX Skills is a specialist training business based in Melbourne Australia that only delivers customer experience and customer service related courses facilitated exclusively by industry professionals. Our main website, CX Central is Australia's most trusted website for contact centre and CX professionals in Australia and we also manage the popular Call Centre Legends Facebook page followed by over 30,000 call centre employees.
As well as training solutions, we also provide CX & Contact Centre consulting services using the same practices, processes and methodologies that we use in our training courses so you can rest assured you'll be learning best-practice skills that work in the real world.
When you purchase the Customer Experience Management Fundamentals Course you receive:
18 hours of live facilitated training with Daniel Ord, one of only 15 Recognised Training Providers in the world accredited by the CXPA.
An optional one-hour private Exam Preparation Coaching Session with Daniel if you are going to sit for the CCXP exam.
A 15% discount coupon voucher to join the CXPA and the exam fee saving you over $100 USD
A comprehensive workbook with examples, templates etc
Save 20% if booking for two or more people in the same transaction.
Upcoming Courses 
Please note to deliver the optimal training we only have limited spaces available in each course so we recommend you book early to avoid disappointment.
Master the five core competencies of CX Management (Customer Experience) with our February 2022 online training course delivered by global CX expert Daniel Ord.
View Course
Master the five core competencies of CX Management (Customer Experience) with our May 2022 online training course delivered by global CX expert Daniel Ord.
View Course