Contact Centre Team Leader Training Courses
Our Contact Centre Team Leader training courses have an average rating of 4.8 out of 5 stars
The Contact Centre Team Leader role is consistently is regarded as one of the toughest in the contact centre.
The modern contact centres expect a lot from their Team Leaders and it's arguably the one role that will have the biggest influence on your call centre's culture and performance.
And whilst the expected functions of a Team Leader can differ between organisations, coaching, performance reviews, escalations, team meetings, reward and recognition, rostering, sick leave management and more can all form part of their duties just to name a few.
At CX Skills we get it. In fact, that's all we specialise in – contact centres, customer service and customer experience training courses whether its online training or at your premises with both public and private training courses available.
All of our courses have been designed by, and are facilitated by, contact centre and CX professionals with a vested interest in our industry with the skills and experience to deliver effective training that works in the real world, not out of some corporate training manual.
Why contact centre Team Leader training is so critical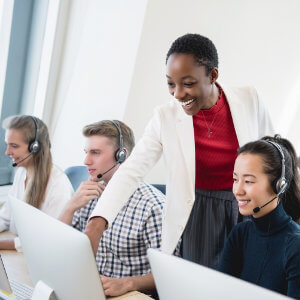 Most Contact Centre Team Leaders are typically sourced from top-performing contact centre agents. They may have been great at dealing with customers, making lots of sales and so on but then we move them into a role where a whole heap of new skills are suddenly required. Managing Others, Giving Feedback, Being a Leader, HR Rules, Managing Poor Performance and of course a heap of management reporting, managing up, roster issues and so on just to name a few.
And then we wonder why they struggle?
As the contact centre Team Leader is directly responsible for a number of employees (around 10-15 is normal) if they are disengaged or lack the right skills, not only do you run the risk of losing one of your top employees (that's why they got a promotion in the first instance), you also run the risk of having 15 employees that are also disengaged.
And you know what that means – low employee engagement resulting in reduced performance, increased sick leave, increased turnover and a declining customer experience.
Our courses are designed to ensure your Team Leaders receive the skills they need for success. Whether it's someone about to step into a TL or supervisor role for the first time or an existing leader who need to polish their skills in a particular area.
Equipping your Team Leaders with the skills they need for success
Effective contact centre Team Leaders need to have a number of skills to be successful in the role including:
Understanding how call centres operate and what are the levers required to drive performance.
How to provide effective coaching and provide constructive feedback.
How to manage poor performance.
How to effectively lead a team.
Based on decades of contact centre specific experience, we've developed custom-designed Contact Centre Team Leader training courses to provide them with the tools, skills and experience to succeed.  These include:
Operational & Technical Skills – Education on how contact centres work, common KPI's, industry jargon, things to look out for, common traps etc.
Leadership Skills – arming students with the skills and knowledge to provide leadership, coaching and performance feedback skills in a contact centre environment.
Self Development – Teaching skills on how to ensure course participants get the best out of themselves so they are in the best position to help others.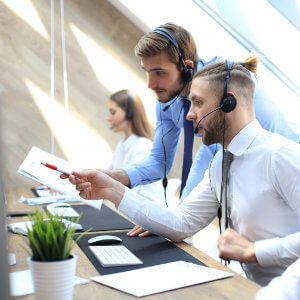 Public or Private course delivery?
We've developed our Contact Centre Team Leader Training Courses to ensure your TL's receive the very best technical and professional skills they need for sustained success. All our courses can be delivered in-person (subject to COVID guidelines) or online via ZOOM teleconferencing.
Public Courses
Our Public Contact Centre Team Leader training courses have the times and dates fixed to enable you to plan ahead and align with your induction programs, rosters, annual leave commitments and so on.
They can be perfect for one person or small centres that in addition to learning some great new skills, the public courses can also be a great way to meet other Team Leaders and help to build a professional network which can be crucial to long-term success.
If you would like to have more flexibility on the dates, times and content refer to our private options.
Private Courses
Whilst the public courses can be a great way to interact with others and are perfect for small numbers, sometimes you need more flexibility with the dates and times or you'd like the benefits of training larger groups of Team Leaders within your business.
Our private courses can deliver the same course with dates and times to suit you and we can also include custom-built role plays, simulations and call examples based on your business rather than the generic ones we use in our public courses.
We're incredibly proud of the customer testimonials we've received for our Contact Centre Team Leader training courses. You can read some of the latest below or you can read all of our customer testimonials here >
Helpful, practical advice
Review of December 2021 How to Monitor and Coach Contact Centre Agents
Thanks Daniel and Justin for running another course full of helpful and practical advice. The lessons learnt in this coaching and monitoring course can be applied to many aspects of our day to day work.
Team Leader, Customer Service and Education
Review of December 2021 How to Monitor and Coach Contact Centre Agents
I have taken many learnings from this course. Daniel presented in an delightfully engaging manner and provided a wealth of knowledge and insight. I see a lot of long term benefit from this course. It has sparked new ideas, and has shifted my mindset in several ways. Daniel provided many practical tools to utilise, and presented some fantastic ideas and valuable feedback.
Senior Customer Service and Education Officer
Portable Long Service Authority
Superb introduction to taking the leap from consultant to TL/Manager
Review of November 2021 Introduction to Contact Centre Management
My manager advised he wanted me to do this course to get a feel on what it would take to make the leap from a consultant to a TL. Over the two days Justin was able to give me more than enough understanding of the fundamentals that you need to know to take this leap. Very grateful to have had the opportunity and would HIGHLY recommend to anyone in a similar situation.
Senior Customer Response Agent
Excellent foundation course
Review of November 2021 Introduction to Contact Centre Management
Informative information and materials, providing a great foundation understanding; good pace and an engaging presenter in Justin.
A/Director Client Operations
Excellent Contact Centre Management Course
Review of November 2021 Introduction to Contact Centre Management
The course was very informative and most modules relative to our business area. The facilitator Justin, was very knowledgeable and motivating with the quize's. I highly recommend this course for any team leaders or managers who run a call centre.
Review of How to Monitor and Coach Agents (Private Course)
Daniel and Marcus were refreshing! We thought that how we do things were already good, but they showed us how it could be better by unlocking all those small locks that would be instrumental to change. I would like to recommend them to all you folks who monitor and coach, as this may be the secret sauce that you need for success!
Virtual Gaming Worlds (VGW Holdings Limited)
CX Skills is a specialist training business that only delivers contact centre, customer experience, customer service and leadership related courses facilitated exclusively by industry professionals.  We're one of the founding members of the Australian Customer Experience Professionals Association (ACXPA) and we are committed to helping Australia to be recognised as global leaders in Customer Experience.
We've trained thousands of staff across a diverse range of businesses and we're proud of the amazing customer testimonials we've received directly and on Google reviews (the most recent listed below) so you can rest assured your training is in good hands.
Contact Centre Team Leader Training Courses
Recognising the large variances in Contact Centre Team Leader training requirements and experience, we've got a range of different courses including courses for emerging contact centres managers or experienced managers needing a refresh through to niche courses like How to Monitor and Coach Call Centre Agents, How to Manage Live chat and so on.
Simply select the courses you'd like to learn more about below or scroll at the bottom of the page for all the upcoming public courses you can purchase a ticket for.