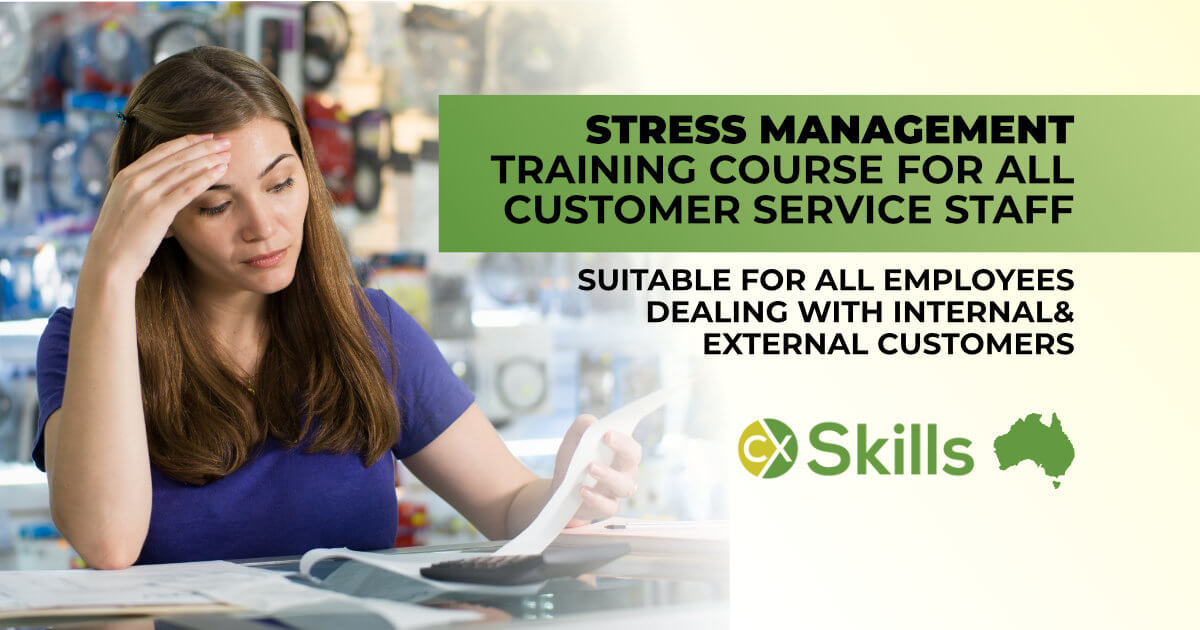 Stress Management for Customer Service Staff Training Course
With the COVID pandemic, global stock shortages, staff shortages and so on our customer service employees and customers are under more stress than ever before.
Yet the word 'stress' is so deeply ingrained in our daily conversations and work that it is difficult to step back and ask  – what exactly is stress, where does it come from and how I can I better manage it in my own life?
This Stress Management for Customer Service Staff course is designed specifically for employees who deal with internal and/or external customers on a daily basis.
We examine stress and how to better manage it from the perspective of anyone who works in the Customer Service industry because dealing with customers & clients (whether internal or external) represents its own unique set of stress factors.
We present a solid understanding of stress, its biological origin, ways to classify stress and most importantly, understand how to bring better self-management skills into dealing with your own personal stress – whether at work or in your personal life.
With lots of exercises and workshop activities – as well as an environment of trust and candour – we get to the heart of stress and stress management to help your employees better prepare for the challenges of today and tomorrow.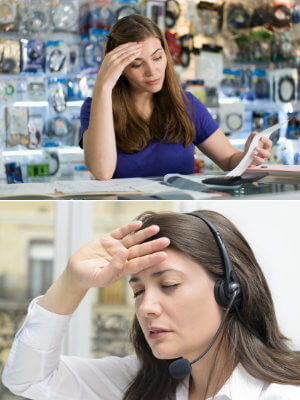 Who should do this course?
The Stress Management for Customer Service staff course is specifically designed for any employees dealing with internal or external customers on a daily basis.
Typical roles include:
Contact centre employees
Customer Service staff
Retail workers
Office/admin workers
Warehouse workers
Account managers
Looking for other options?
Looking for other options?
Stress Management for Customer Service Staff Course Outline
3 Hours of Live, Facilitated Learning
The Stress Management for Customer Service employees course has been designed specifically for employees who work in a customer-facing role.  The course includes three core modules listed below delivered in 1 x 3-hour online session.
1. What Makes our industry stressful?
What is it about our industry that makes it stressful?  Are there things we can control – or is a lot of it out of our control?  In Customer Service what ranks 'up there' in terms of causing our stress reaction?
What are the Stressors in the Customer Service Industry?
Stoicism and the Customer Service Industry
One way to look at Human relationships – including with Customers
Classifying stressful situations
2. Defining Stress & Stressors
There's a science to stress.  By understanding the science, we can better understand what's happening to us.  Not everybody has the same stressors – nor is all stress bad.  In this module, we cover what you need to know about the science.
Defining Stress and Stressors
The Biological history & impact of Stress
Discover your Stressors
Positive & Negative Stress
3. How to better manage stress
The final module brings it all together and will empower the employee with new skills for dealing with stress including:
Analysing 'which' type of stress you face
Coping strategies for acute stress
Applying levels of control for chronic stress
Cognitive Restructuring
Your stress profile
While this course has been delivered onsite for over 20 years all across the world, with the arrival of COVID and the increase in stress all across the world, we've now adapted this course to be delivered online via ZOOM teleconferencing enabling shorter, more frequent courses.
Delivered over 1 x 3-hour session, it enables you to easily schedule employees to receive global best-practice skills with only a minimal impact on operations whether they are working on the frontline, on the phones, at work or at home.
The Zoom link and electronic course workbook will be sent to all course participants the day prior to the course commencing.
About Your Trainer, Daniel Ord
The trainer for the Stress Management for Customer Service Employees training course is Daniel Ord from OmniTouch International – recognised as one of the leading customer experience and contact centre trainers in the world.
Daniel has trained over 50,000 participants across over 40 countries and is regularly featured in leading customer management publications and he has been a regular visitor to Australia for over 20 years.
Credentials-wise, Dan is a Certified Customer Experience Professional (CCXP), one of only a handful of recognised CXPA trainers in the world, an International Customer Management Institute (ICMI) Certified Associate, a Call Centre Industry Advisory Council Training Partner (CIAC), Net Promoter Certified and Daniel was the first to bring professional management level Contact Centre certification to Asia back in the early 00s (he was based in Singapore for 20 years).
Daniel is consistently regarded as the best trainer in the industry with his incredible subject matter expertise, excellent storytelling with real-world examples, a great sense of humour and a clear passion for the industry and helping people excel.
So it's not surprising to note that despite all the numerous industry accolades and recognition, it's the Customer Testimonials Daniel is most proud of and you can read a selection of his recent testimonials below.
Customer Testimonials for Daniel Ord
Daniel Ord is one of the leading trainers in the world for customer service, call centres and customer experience and a read of some of his customer testimonials is a testament to his skills, knowledge and passion. A selection of his most recent reviews/testimonials are below.
Informative, Educational and Fun!
Review of June 2022 Contact Centre Management Fundamentals
A great course that supports Call Centre managers, no matter what their experience!
Strongly encourage anyone who manages a Call Centre, or has a Call Centre in their department to sign up and take this course! You won't regret it.
Review of June 2022 Contact Centre Management Fundamentals
Daniel has an amazing ability to connect with people. He is very personable, and has this amazing ability to bring training content to life!
Queensland University of Technology
Review of June 2022 Contact Centre Quality Assurance Training
I thoroughly enjoyed workshopping Quality Assurance with Daniel. Daniel introduced us to the structure, framework and application of Quality Assurance in a Contact Centre environment, providing some really key techniques to ensure successful implementation.
If you are looking to implement a QA program in your business or to future proof the quality of Service Delivery Team, I highly recommend taking this course.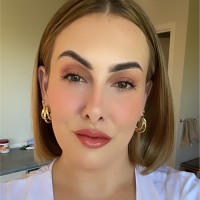 Quality and Training Lead
Review of June 2022 Contact Centre Quality Assurance Training
Great holistic view of the CX process!
Private and Public Options
The Stress Management for Customer Service Staff course is available publicly (with others) or privately (just for your business) with the differences outlined below.
Public Courses
The Stress Management for Customer Service Staff course is delivered as 1 x 3-hour session across via ZOOM and tickets are available to any business. This is perfect for small numbers of employees attending with the added benefit of meeting, learning and sharing with other employees in the industry.
The times and dates are fixed to enable you to plan ahead around busy schedules – If you would like to have more flexibility on the dates, times and content refer to our private options.
Private Courses
Whilst the public courses can be a great solution for small numbers, sometimes you need more flexibility with the dates and times or you'd like to train entire teams, workplaces etc.
Our private courses are typically more cost-effective and you can also choose the dates, times and duration of the workshop to suit your business.
CX Skills is a specialist training business that only delivers contact centre, customer experience, customer service and leadership related courses facilitated exclusively by industry professionals.  We're one of the founding members of the Australian Customer Experience Professionals Association (ACXPA) and we are committed to helping Australia to be recognised as global leaders in Customer Experience.
We've trained thousands of staff across a diverse range of businesses and we're proud of the amazing customer testimonials we've received directly and on Google reviews (the most recent listed below) so you can rest assured your Stress Management for Customer Service employees training is in good hands.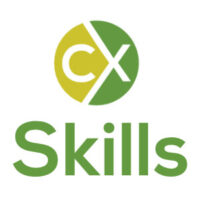 Pricing and Payment Options
The February 2022 Stress Management for Customer Service training course facilitated live by Daniel Ord is just $247.00 AUD ex GST per employee.  Tickets can be purchased instantly with a credit card or you can request an invoice at checkout.
The price includes:
1 x 3 hour live facilitated session by Daniel Ord
Course workbook (delivered electronically)
Available Discounts
 Save 15% 

if you purchase 3 to 6 tickets in the same transaction

 Save 20% 

if you purchase 7 or more tickets in the same transaction
If you'd like to train your whole team in a private session please contact us for further information and pricing.
Purchase tickets to the Stress Management for Customer Service Staff training courses: