Live Chat Management Training Course
Today, customers continue to turn to online or digital support for everyday needs and questions whether it's through a live chat software on your website, SMS, Facebook, WhatsApp and so on.
Whether for sales, service or technical support, the live chat channel can fulfil many roles for the organisation and our overall objective for this Live Chat Management training course is to equip participants with a solid understanding of the live chat channel, its business objectives, typical uses, best practices and measures of success.
But managing Live Chat doesn't come without its challenges. Service Levels, Wait Times, Knowledge Bases, Routing, Integration and Reporting and so on are all critical components and we cover them all in this course.
Whether you are currently using Live Chat and are looking to 'tune-up' or you are looking at implementing Live Chat, our Live Chat Management Course is designed for you.
Need to train your frontline agents on Live Chat Customer service skills? Check out our Live Chat for Agents course >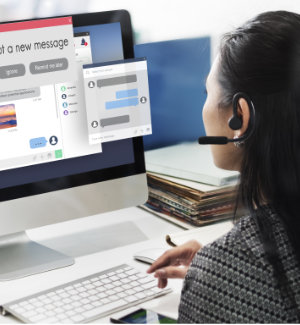 Live Chat Management Course Fast Facts
Our Live Chat Management training courses are delivered over 3 great modules:
Module 1: Establishing Organisational Objectives for Live Chat
It always helps to have a big picture of what you want to achieve.  A purpose, a mission – a vision.  Call it what you will.
Each time a channel is integrated into the existing mix of Customer contact points, an increasing level of resource and sophistication is required.
So it is important to first establish and confirm the organizational objectives for Live Chat and ensure the program is designed in a manner that supports objectives.
In this section of the program, we will address all the major strategic objectives for Live Chat and work with participants to both articulate and document their objectives.
Module 2. Customer Expectations for Live Chat
While establishing organisation objectives is important, the other 'side' of the equation involves the customer.
In this module, we address the known and studied expectations that customers have for the Live Chat channel to ensure that the needs of both the Organisation and its customers are met.
Module 3. Developing a Customer Access Strategy for Live Chat
This is where we will spend most of our time.
In this module,  we will workshop a comprehensive Customer Access Strategy related to Live Chat.  The Customer Access Strategy helps us bring our strategy to life and we will address, component by component:
Customer Segmentation
Reason Types / Passive or Reactive situations
Wait Time Approach
Hours of Operation
Journey Mapping / Routing / Omnichannel considerations
People Resource requirements for Live Chat (Training & Know How )
Technology Resources requirements (what to look for in Live Chat)
Knowledge Bases
Integration & Reporting requirements (including the effectiveness of the program)
By the end of this section, participants will have a very strong grasp of what they need to do to either 'fine-tune' their existing program or implement a new program.
Your trainer for the Live Chat Management Courses is Daniel Ord from OmniTouch International – the leading contact centre trainer in the world with his courses regularly selling out across the globe.
Daniel has trained over 50,000 participants across over 40 countries and is regularly featured in leading contact centre publications and he has been a regular visitor to Australia for over 20 years.
Participants consistently rank Daniel as the best trainer they've had with incredible subject matter expertise, excellent storytelling with real-world examples and of course, a great sense of humour so you'll have some fun while you learn!
Credentials-wise, Dan is a Certified Customer Experience Professional (CCXP), an International Customer Management Institute (ICMI) Certified Associate, a Call Centre Industry Advisory Council Training Partner (CIAC), Net Promoter Certified and the first to bring professional management level Contact Centre certification to Asia back in the early 00s.
Like to learn more about Daniel? Read some of Daniel's articles on CX Central, listen to some Podcasts on the CX Hustle or view Daniel's profile on LinkedIn.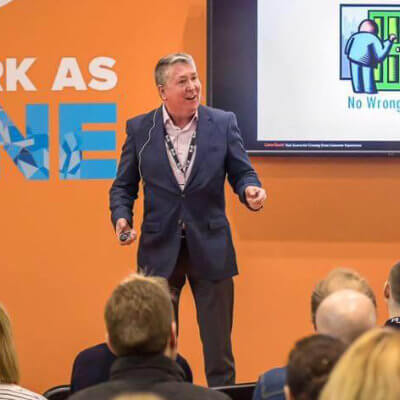 The Live Chat Management Course can be delivered publicly (with other businesses) or privately (just for your business). We've explained some of the differences below.
Public Courses
Our publicly available Live Chat Management courses enable you to enrol as few as one employee making them a cost-effective way of upskilling yourself or your leaders.
The public courses can also be a great way to interact and learn from others in either the same or different industries.
Each course has fixed times and dates making it easy to plan around shifts, holidays and other business commitments.
You'll find a list of upcoming public courses for Live Chat Management training at the bottom of this page.
Private Courses
Whilst the public Live Chat Management course can be a great way to interact with others and are perfect for small numbers, sometimes you need more flexibility with the dates and times or you'd like the benefits of training larger groups of agents within your business.
Our private courses can deliver the same course with dates and times to suit you and we can also include custom-built role plays, simulations and call examples based on your business rather than generic ones we use in our public courses.
Upcoming Public Live Chat Management Courses
With COVID-19 we have suspended all our classroom/face-to-face learning for a while. The good news is the Live Chat Management course is still available for online delivery via Zoom facilitated by global expert Daniel Ord.