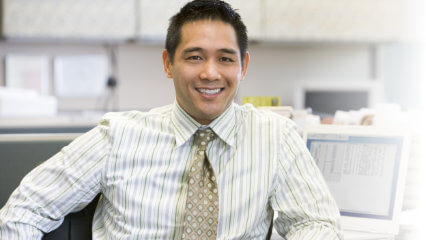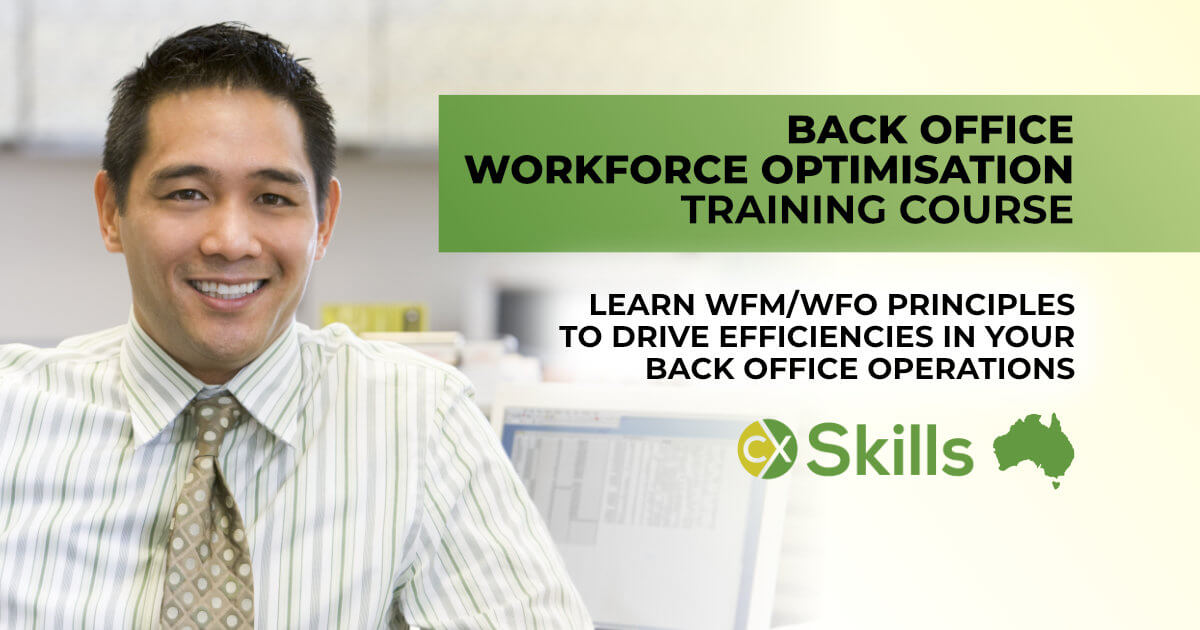 March 2022 Workforce Optimisation Back Office Training Course
Learn how to drive efficiencies in your back office operations
The back office is typically defined as the portion of a company that is made up of non-customer-facing functions such as accounting, IT, records maintenance, data administration (form processing, records maintenance) office management, compliance, HR and so on.
But just because the back office doesn't interact with customers, doesn't mean it's not important! It's not uncommon for back-office departments to have a large number of employees and for many businesses, it's an area that is increasingly being considered for outsourcing (either onshore or offshore) as a way of improving efficiencies.
When it comes to workforce optimisation, it's traditionally an area that has lived in the front office domain. Retail and contact centres, for example, often invest significantly in workforce optimisation software.
That same discipline is now being applied to the back office as when back-office managers have staff in the wrong place at the wrong time, they are essentially throwing money down the drain.
With good workforce management training for your back office planning staff, you'll be prepared for the future and your team can work more efficiently than ever before.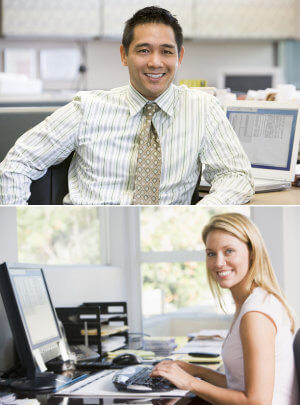 This course examines the theories and practicalities that are essential for any WFM consultants, forecast analysts and other administrators working behind the scenes of your business.
Why invest in the Back Office March 2022 Workforce Optimisation Training Course?
One of the biggest expenses for most businesses is labour. And when it comes to the back office, it's often a very large percentage! Whilst there is (and will increasingly be) software and systems that can automate some processes, the majority of work is resource-intensive and that comes with a high price tag.
As contact centres discovered decades ago, aligning your resources with demand provides a host of benefits. Most obvious is cost (you need less labour to achieve the same if not better result) but there are also positive benefits to Employee Engagement and Customer Experience. They, in turn, reduce costs by lower turnover, higher customer retention etc.
 Bu understanding and applying many of the same principles, those same positive benefits can be achieved through better optimisation of your back office.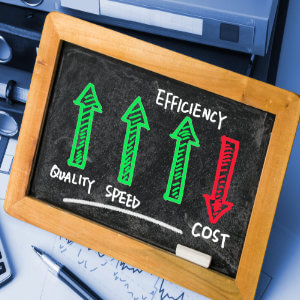 The three-day March 2022 Back Office Workforce Optimisation training course will cover everything your employees will need to operate swiftly and efficiently in the back office environment.
This includes short and long-term forecasting skills, comparing business requirements with resource constraints, organisational management support and communication, and governance and contingency planning.
Whilst workforce optimisation software is a critical component of WFM/WFO practices, this course does not require any particular brand of software to use. The theory taught is universal and should blend into your existing company infrastructure.
Who should do this course?
The Back Office Workplace Optimisation training course is specifically designed for employees who are responsible for optimising back-office functions.
Typical roles include:
Back office workforce planners.
Forecasters and analysts who are responsible for planning in a back-office environment.
Administrators in a back-office environment.
Managers of the back office function who want a thorough understanding of how to forecast and budget resources to maximise efficiency.
Back Office March 2022 Workforce Optimisation Training Course Outline
3 Days of Live, Facilitated Learning
The March 2022 Back Office Workforce Optimisation training course has been designed specifically for employees directly involved with resourcing for the back office.  The course includes six modules listed below delivered over 3 days (online) facilitated by the Workforce Optimisation experts, CallDesign.
MODULE 1: INTRODUCTION TO WORKFORCE MANAGEMENT
We cannot stress the importance of good workforce management enough, but we understand that at first, it may seem complex – especially for staff unfamiliar with the concept. That's why this course begins with a broad overview and an important introduction to the what and why of WFM.
The course begins by setting the tone for the rest of the modules. Here we'll discuss the overarching theory behind WFM, why it also works in a back-office environment and some of the most important components behind its success.
We will cover:
What is WFM?
Why does it work in a back-office environment?
How is it used in a back-office environment?
MODULE 2: FORECASTING AND PLANNING
It's important to understand workload so that you can plan how best to optimise staff to prevent large backlogs. When the right staff are in place at the right time, staff can confidently meet the rising and shrinking demand of a back office's weekly ebb and flow.
Accurate forecasting is one of the best tools analysts can have in their tool belt – when armed with best-practice techniques, they can compare historic patterns with "what-if" scenarios to estimate shrinkage, plan budgets, and predict incoming workload.
This module covers the best-practice formulas and techniques used to forecast future workload and plan accordingly for the back office.
We will cover:
Time series analysis
Resource requirements
Effective planning
MODULE 3: PERFORMANCE ANALYSIS
It's one thing planning all the pieces and putting them in the right place, but it's another entirely to ensure that staff performance meets the changing requirements of your business. Everyone's performance changes over time, but a lack of oversight could mean that even your best staff aren't performing in the manner you expect from your team.
Close analysis, however, can help you find the team members who need extra coaching and address these issues with targeted change.
In this module, you'll learn how you can efficiently analyse the performance of your team, and how to make the issues of the past the lessons of tomorrow.
We will cover:
Analysis requirements of people performance
Importance of retrospect
MODULE 4: MANAGEMENT SUPPORT FRAMEWORK
Your everyday team members may need performance analysis and regular training, but managers also require a support framework to operate at peak efficiency.
Resourcing can greatly impact their workload, but team leaders are often forgotten and left to figure out how to improve by themselves when staff coaching takes priority.
In this module,  we'll directly address this issue by examining different ways in which back-office managers can be affected by resourcing, and how you can more effectively support your key people.
We will cover:
Resourcing impacts on the managerial staff
Management requirements
Techniques on how to better support managers
MODULE 5: GOVERNANCE AND CONTINGENCY PLANNING
When was the last time you shined the spotlight on your company governance? These fundamental rules, practices and processes should define how your company is directed and controlled, but they must support your new WFM initiative if it is to be successful.
That said, change is a powerful force, and sometimes things don't go as expected. Should something go wrong, contingency plans must be in place to ensure there is little-to-no loss in productivity, revenue or morale.
This module provides an overview on how governance and WFM intertwine. You will also learn about contingency planning, and how it can affect or be affected by WFM.
We will cover:
Governance for WFM in a back-office environment
Contingency planning in the back office
MODULE 6: COMMUNICATION AND CHANGE
Communication is critical to change management. Studies have shown that the natural human response to change is generally negative, but evolving is vitally important for improving your back-office efficiency and implementing better WFM. In order to keep morale steady while going through this process, your change management methodology must be on point.
In the final module, you will be provided with techniques to improve the success of these new WFM process implementations. The module will cover both communication and change management methodology.
We will cover:
Communication for better success
Best-practice methods for embedding change in a back-office environment
Built for Online Training
This March 2022 Back Office Workforce Optimisation course has been specifically designed to be delivered online over three full days. There are plenty of breaks scheduled to enable you to stay focused and attend to any urgent matters.   
The Zoom link and electronic course workbook will be sent to all course participants the day prior to the course commencing.
The course is available for public or private delivery with the differences explained below.
Private and Public Training Options
The March 2022 Back Office Workforce Optimisation training course is available publicly (attend with others) or privately (just for your business) with the differences outlined below.
Public Courses
The public March 2022 Workforce Optimisation Back Office training course is delivered as a 3-day online course via ZOOM and tickets are available for anyone to purchase. This is perfect for smaller numbers of employees (you can purchase a minimum of 1 ticket) so you can spread your training out to minimise operational impacts along with the added benefit of meeting, sharing and learning from others also on the course (this can really add to the learning experience).
The times and dates are fixed enabling you to plan ahead – If you would like to have more flexibility on the dates, times and content refer to our private delivery options.
Private Courses
Whilst the public courses can be a great solution for small numbers, sometimes you need more flexibility with the dates and times or you'd like to train entire teams, workplaces etc.
Our private courses are more cost-effective and you can also choose the dates, times and duration of the workshop to suit your business.
Private courses often enable a deeper dive into specifics about your business which wouldn't be practicable in a public setting.
The March 2022 Back Office Workforce Optimisation course will be held on the following dates and times:
Wednesday 9th March 2022 09:00 to 17:00
Thursday 10th March 2022 09:00 to 17:00
Friday 11th March 2022 09:00 to 17:00
Dates or timezones don't suit? Check for other upcoming dates or contact us to discuss a private session.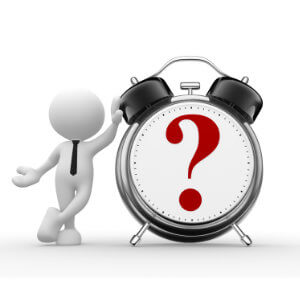 For over 20 years Call Design has been providing Workforce Optimisation solutions for businesses as well as consulting, training, and a range of other services to improve the efficiencies of contact centres and back-office operations.
Their consultants are experts on WFM best practices.   They've been leaders in the Australian contact centre, retail and back-office industries since 1999 with a reputation for delivering high-quality solutions.
CX Skills is a specialist training business that only delivers contact centre, customer experience, customer service and leadership related courses by partnering with proven industry professionals.  We're one of the founding members of the Australian Customer Experience Professionals Association (ACXPA) and we are committed to helping Australia to be recognised as global leaders in Customer Experience.
We've trained thousands of staff across a diverse range of businesses and we're proud of the amazing customer testimonials we've received directly and on Google reviews (the most recent listed below) so you can rest assured your training is in good hands.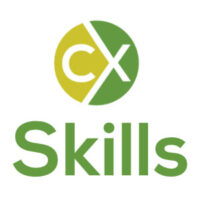 Pricing and Payment Options
The 3-day March 2022 Back Office Workforce Optimisation training course facilitated live by CallDesign is $3,497.00 AUD ex GST per employee.  Tickets can be purchased instantly with a credit card or you can request an invoice at checkout. As this is quite a niche course, we require a minimum of 3 people for the course to proceed. In the event this is not achieved, we will provide you with a full refund or you can defer until the next scheduled course.
The price includes:
3 Full days of live facilitated training by CallDesign
Course workbook (delivered electronically)
Available Discounts
Save 15% 

if you purchase 2 or more tickets in the same transaction
If you'd like to discuss a private training session just for your team, please contact us for further availability and pricing.