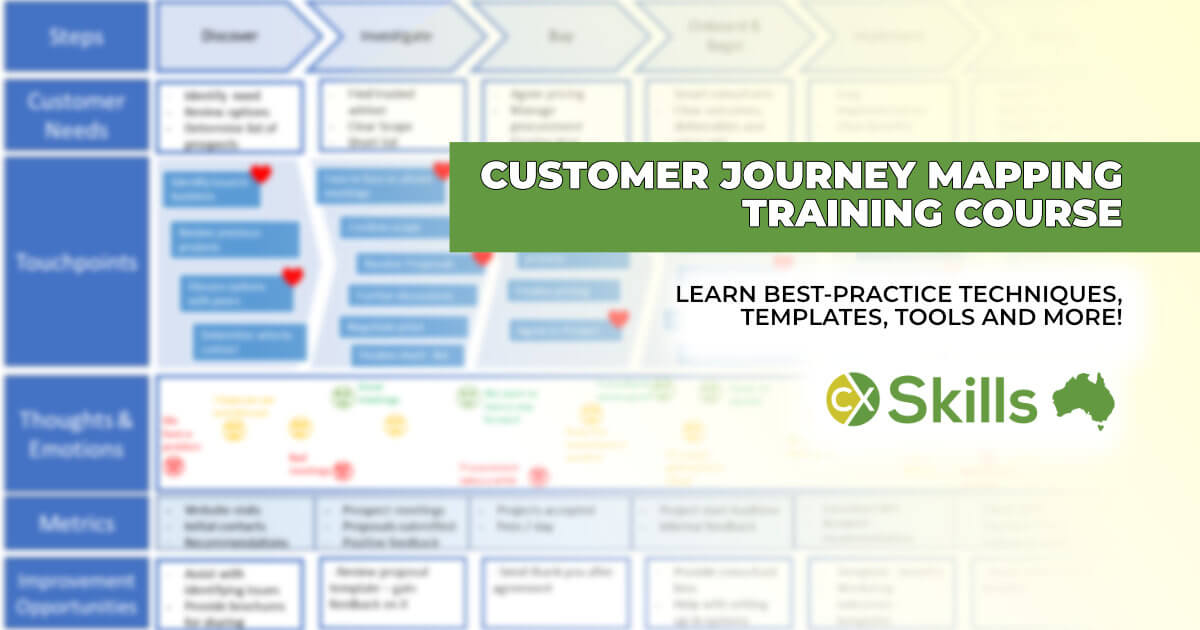 Customer Journey Mapping Training Course
The Customer Journey Mapping training course has an average rating of 4.8 out of 5 stars
Customer Journey Maps are like roadmaps that detail what your customers experience when interacting with your business.  They start before customers buy or use your product or service, and continue all the way through the customer lifecycle — beginning from awareness, moving through consideration, and all the way up to the actual point of interaction(s) both before and after purchase.
They are a critical component for identifying and improving the experiences, pain points and moments that matter for your customers and then using that insight to deliver better outcomes for your customers, your employees and your business.
And Customer Experience (CX) matters.
Recently customer experience overtook price and product as the key brand differentiator for customers determining who to buy from, and which companies to remain loyal to.
But it's not just about having happy customers, consider these statistics:
86% of buyers are willing to pay more for a great customer experience.
73% of buyers point to customer experience as an important factor in purchasing decisions.
65% of buyers find a positive experience with a brand to be more influential than great advertising.
84% of organisations working to improve CX report an increase in revenue.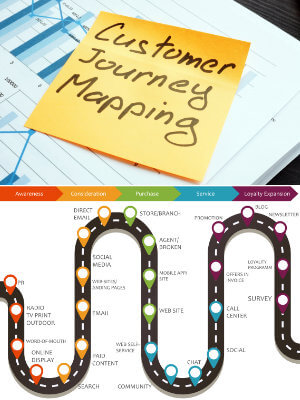 Our half-day Introduction to Customer Journey Mapping Training Course will empower you with the insight, skills and tools on the fundamentals of Customer Journey Maps enabling you to build useful and practical customer journey maps for your business.
And for under $300 for the half-day workshop, there's never been a better investment for your business.
By the end of the Customer Journey Mapping Workshop you'll be able to :
Understand why a focus on customer experience is critical to business success.
Develop an understanding of what is involved in creating a customer journey map, what it's used for and why it's so important.
Learn how to develop a deep customer understanding as a prerequisite for journey mapping.
Understanding why identifying and targeting customer emotions is critical to success.
How to identify the critical moments that really matter in a Customer Journey.
Learn why having the right customer experience metrics is important in creating journey maps.
Target for improvement the critical moments in the customer journey.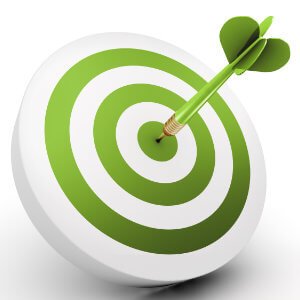 Whilst traditionally this course has been done on-site with the use of copious amounts of sticky notes, you can rest assured that we've modified the course to ensure you get the same learning outcomes whilst delivered online.
During the course, we use a great (free!) online tool that allows you to create Customer Journey Maps on your screen and collaborate with others!
The Customer Journey Maps workshop is held over Zoom and includes some regular breaks to ensure you can remain fresh and attend to any urgent matters throughout the course.
That said, as COVID restrictions ease we are now taking private bookings for Customer Journey Workshops (albeit there is still some risk involved!).  Learn more about our private courses >
Highly recommend the Customer Journey Mapping course!
Review of Customer Journey Mapping (Private Course)
Shane is a fantastic facilitator who guides you through this practical, hands-on course where you get to create your own customer persona and journey map using Mural, an online journey mapping and collaboration tool. Whether you're new to customer journey mapping or just want a refresher, this course will cover everything you need. Highly recommend!
Organisational Development Business Partner
Canterbury Bankstown Council
Review of Customer Journey Mapping (Private Course)
A great session with Shane giving us some good insights and practise with Customer Journey Mapping.
Organisational Development Lead
Canterbury Bankstown Council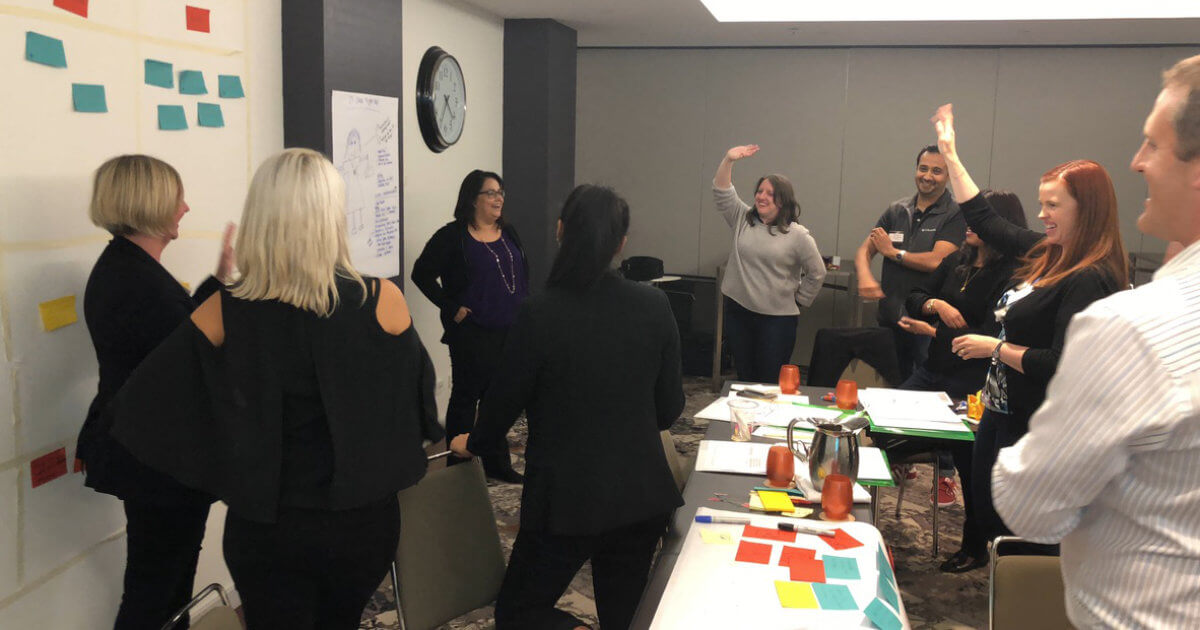 CX Skills is a specialist training business that only delivers contact centre, customer experience, customer service and leadership related courses facilitated exclusively by industry professionals.  We're one of the founding members of the Australian Customer Experience Professionals Association (ACXPA) and we are committed to helping Australia to be recognised as global leaders in Customer Experience.
We've trained thousands of staff across a diverse range of businesses and we're proud of the amazing customer testimonials we've received directly and on Google reviews so you can rest assured your Customer Journey Mapping training is in good hands.
Public and Private Training Options
The Customer Journey Mapping training course is offered both privately and publicly depending on your requirements. You can learn more about both below.
Public courses are great for small numbers (you can purchase a minimum of 1 ticket) with the added value of learning from, and meeting, others on a similar journey.
The times and dates are fixed enabling you to plan ahead.
Search below for the upcoming Customer Journey Mapping public training courses.
Private courses can be cost-effective for larger numbers and a great tool for driving organisational-wide CX transformation change by getting everyone on the 'same page' in learning how Customer Journey Maps work and how to build them for your business.
You can also have more flexibility with dates and times to suit your organisation and it can be more cost-effective for larger groups.
Learn more about our private courses >
Pricing and payment options
The Customer Journey Mapping training course is $297 AUD ex GST for 4 hours of live, facilitated learning.
The price includes:
4 hours of live facilitated training
Access to an online Customer Journey Mapping tool
Sample Customer Journey Mapping templates
Save 15% if you purchase 3 or more tickets in the same transaction.
Tickets can be purchased using a credit card or invoice – select your preference on the checkout page.
Purchase a ticket to the Customer Journey Mapping Training Courses
We don't have any public courses scheduled yet for 2022. You can register your interest in the next public course of the form below or contact us about a private training session just for your team.