Team Building Activities that boost employee engagement 
One of the most successful employee engagement strategies is to empower your leaders with the tools, processes and skills to inject more energy, fun and interaction into your team.
Let me ask you this:
Do you need to Boost Team Engagement, but don't really know where to start?
Is your team energy a little 'stale'?
Have you tried to deliver some team activities yourself with varying results?
Injecting more fun into your team is proven to boost engagement and performance. Seriously who wants to come a 'boring' workplace and when was the last time you were productive when bored out of your wits?!
Boosting team engagement is like bathing – it's something you need to do every day otherwise you'll start to stink!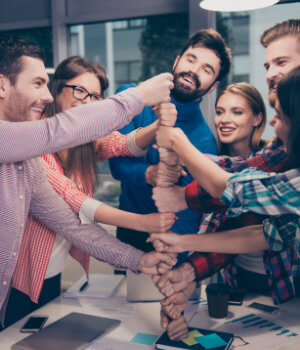 Who is this course suitable for?
The Team Building Activities Workshop is suitable for anyone that is leading a team of employees. Roles include:
Team Leaders
Supervisors
Section Managers
Shift Managers
Managers
Executives
They are industry agnostic so it doesn't matter whether your a call centre, HR team, retail store, factory, administration and so on.
How you can boost employee engagement
In this one-hour Team Building Activities Workshop,  Mike Symonds (the Chief Funergizer) will provide you with the tools, process and skills to inject more energy, fun and interaction into your team using a series of unique engagement activities called Funergizers.
In this program, Mike will teach you everything you need to know to use fun team activities to boost team energy and engagement.
You'll discover:
Mike's hot tips on running activities so they work!
How to deal with resistance
How to easily Integrate Funergizers into your daily work routine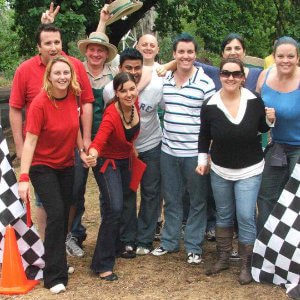 Employee Engagement activities that actually work!
For over 20 years Mike has been teaching leaders the skills, tool and processes on how to build employee engagement and you'll learn a couple of activities in this workshop that you can get started with straight away!
And by getting started, you'll get quick results:
An employment services team improved team engagement by 10% which increased performance by 47%… in Just 5 Minutes a Day for 30 Days
82% of participants agreed Funergizers built stronger relationships both within and across teams…. in Just 5 Days
Another 85% of participants said that Funergizers made them feel more energized, positive, productive and enthused about their work!… from Only One 30 Minute Session
Each time we run this course we teach different funergizers all designed to fill your toolkit with different activities you can run to drive different outcomes.
Whether it's a quick scavenger hunt, creative challenge, team relay activity or something else totally unexpected, it's guaranteed to be quick, easy to run, highly engaging and fun!
You'll be able to easily run this yourself in your next team meeting, whether it's face to face, or blended with some staff working from home.
Funergizers come in a mix of:
Quick 'energizers' and 'team-connectors' perfect for team meetings and daily huddles
Engagement Activities that can 'bubble away' in the background
Longer Team Bonding Events which are perfect for team days and gatherings
Running our Team Building Activities Workshop was something that up until COVID, was always conducted onsite.
Of course, COVID completely shifted the way we need to think about training delivery and like our other courses, we have now shifted it to an online delivery format.
The good news is moving to online hasn't compromised the course at all!
But we understand some people like training conducted onsite where possible and with COVID restrictions starting to ease, we are now starting to take private course bookings with our public courses continuing to be offered online only for the foreseeable future.
Mike Symonds, also known as the Chief Funergizer, specialises in helping business leaders create fun, energised, connected and engaged teams.
As the owner of Interactive Events and creator of Funergizers – for the past 20 years Mike has worked with thousands of teams, designing and delivering a range of fun, interactive and unique activities for the workplace.
Mike's motto is 'Have Fun, Keep it Simple and Make a Difference'
Mike has designed and delivered programs and activities to the likes of:
ANZ, Sensis, Exxon Mobil, Cadbury Schweppes, Flight Centre, Origin Energy, St Vincent de Pauls, numerous Industry Associations, business network meetings PLUS hundreds more!
Public and Private Training Options 
This Team Building Activities Workshop is available publicly (with others) or privately (just for your business) with the differences explained below.
Private Courses
Whilst the public courses can be a great way to interact with others and are perfect for small numbers, sometimes you need more flexibility with the dates and times or you'd like the benefits of training exclusively for your team so you can all gain the skills, processes and tools together at the same time.
Our private courses also enable you to choose the dates and times of the workshops to suit your business and are more cost-effective for larger numbers.
Public Courses
The Team Building Activities Workshop is delivered as a one hour workshop via ZOOM and is open to the general public. This is perfect for small numbers of employees attending and the added benefit of meeting and learning from others in the industry (also a great way to help build the network for new starters in the industry).
The times and dates are fixed to enable you to plan ahead around rosters, diaries etc – If you would like to have more flexibility on the dates, times and content refer to our private options.
CX Skills is a specialist training business that only delivers customer experience and customer service related courses facilitated exclusively by industry professionals. Our main website, CX Central is Australia's most trusted website for contact centre and CX professionals in Australia and we also manage the popular Call Centre Legends Facebook page followed by over 30,000 call centre employees.
As well as training solutions, we also provide CX & Contact Centre consulting services using the same practices, processes and methodologies that we use in our training courses so you can rest assured you'll be learning best-practice skills that work in the real world.
I highly recommend Funergizers to any business. It's a simple staff engagement process which can be easily implemented to improve team attitude and performance. – Georgina, L. Call Centre Manager, HCF
Funergizers has provided me with simple, practical 'engagement tools' I can easily implement with my team. – Scott, M. Call centre Team Leader, HCF
We used a Funergizers Fun Team Event at our National Sales Conference and were thrilled with the enthusiastic engagement from all staff. We have since purchased more Funergizers DIY Toolkits to help us run activities in smaller settings ourselves which we have used to great success. I would happily recommend Funergizers to any company looking for a fun, energized and targeted approach to team relationship building. – A. George, Communications Manager, Polaris
[grw place_photo="https://maps.gstatic.com/mapfiles/place_api/icons/v1/png_71/school-71.png" place_name="CX Skills" place_id="ChIJadr1w89d1moR3lvRAUcVfd8" pagination="5" text_size="120" refresh_reviews=true lazy_load_img=true reduce_avatars_size=true open_link=true nofollow_link=true]
Upcoming Public Team Building Activities Workshops