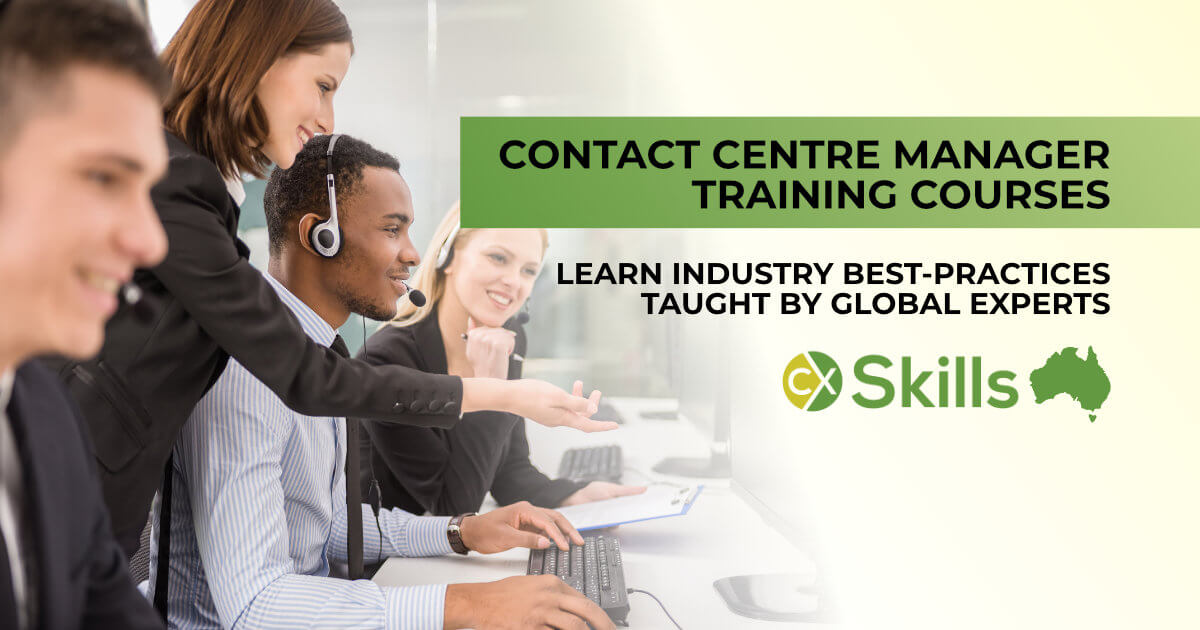 The Best Contact Centre Manager Training Courses!
Our contact centre manager courses have an average rating of 4.9 out of 5 stars
The modern contact centre manager requires a lot of skills to be successful and our numerous contact centre management courses provide the best opportunity to refine skills for existing managers or learn fundamental contact centre management techniques  (that can apply to any contact centre) for someone about to step into a new role.
With contact centres a melting pot of balancing customer expectations, internal stakeholders, technology, data, employee management and so on it's certainly no easy task.  Contact Centre managers also need to provide leadership, be tactical and strategic in their decision making, make complex decisions based on data and have high levels of emotional intelligence.
Don't ask for much do we?
The different disciplines of contact centre management
All of our contact centre manager training courses have been designed, and are facilitated by, experienced Contact Centre managers with decades of real operational experience. As we mentioned earlier, there are lots of different moving parts to running a successful contact centre operations and our courses range from general management through to niche areas if you need to hone your skills in a particular niche.
Courses can include:
The science of contact centres – Proven contact centre concepts that can apply to any contact centre irrespective of industry, type etc including formulas to calculate workload and staffing requirements.
How contact centres work  - Understanding the operational dynamics and processes that create an effective and cost-efficient contact centre including what type of KPIs to use.
Leadership & Engagement – At the heart of every contact centre is people. Knowing how to lead and engage your team is critical to ongoing success.
Workforce Optimisation – Understanding the drivers of costs in a contact centre and ways you can deliver more for less including creating rosters, optimising queues and more.
Quality Management  – The tools, processes and methodologies required to deliver a consistent quality customer experience.
Public or Private Courses?
All our contact centre manager training courses can be delivered privately (either online or in-house) or publicly, either online or at a venue (COVID permitting!).
Public Courses
Our publicly available courses enable you to enrol as few as one employee making them a cost-effective way of upskilling yourself or a select few in the latest contact centre management skills and practices.
The public courses can also be a great way to interact and learn from others in either the same or different industries.
Each course has fixed times and dates making it easy to plan around shifts, holidays, induction periods etc.
You'll find a list of all our upcoming public Contact Centre Manager Training Courses at the bottom of this page.
Private Courses
Whilst the public Contact Centre Management training courses can be a great way to interact with others and are perfect for small numbers, sometimes you need more flexibility with the dates and times or you'd like the benefits of training larger groups of agents within your business.
Our private courses can be delivered in-house or online with dates and times to suit you and we can also include custom-built role plays, simulations and call examples based on your business rather than generic ones we use in our public courses.
We're incredibly proud of the customer testimonials we've received for our Contact Centre Management training courses. You can read some of the latest below or you can read all of our customer testimonials here >
Outstanding course- highly recommend for any Contact Centre Manager
Review of Contact Centre Management Fundamentals (March 2022)
Excellent course with a well thought and usefull material that can be put into practice immediately . Definitely will help to solve a lot of common challenges any CCM experiences. Many CCMs get their knowledge through experience and passed from their leaders, however this course certain helps to complete the knowledge gaps and also challenge some of the way you were taught. Thanks to Dan and Marcus .
Review of Contact Centre Management Fundamentals (March 2022)
So much information but all extremely valuable. Daniel and Marcus were nothing but fantastic throughout this course. Will definitely recommend to my colleagues and friends
QLD Transport and Main Roads
Review of February 2022 Introduction to Contact Centre Management
Very well structured training course – good balance of listening and interactive activities.
Justin is a great presenter and is clearly passionate about the topic.
All course expectations were met – would highly recommend to others.
Manager Client and Administration Services
Helpful, practical advice
Review of December 2021 How to Monitor and Coach Contact Centre Agents
Thanks Daniel and Justin for running another course full of helpful and practical advice. The lessons learnt in this coaching and monitoring course can be applied to many aspects of our day to day work.
Team Leader, Customer Service and Education
Review of December 2021 How to Monitor and Coach Contact Centre Agents
I have taken many learnings from this course. Daniel presented in an delightfully engaging manner and provided a wealth of knowledge and insight. I see a lot of long term benefit from this course. It has sparked new ideas, and has shifted my mindset in several ways. Daniel provided many practical tools to utilise, and presented some fantastic ideas and valuable feedback.
Senior Customer Service and Education Officer
Portable Long Service Authority
Superb introduction to taking the leap from consultant to TL/Manager
Review of November 2021 Introduction to Contact Centre Management
My manager advised he wanted me to do this course to get a feel on what it would take to make the leap from a consultant to a TL. Over the two days Justin was able to give me more than enough understanding of the fundamentals that you need to know to take this leap. Very grateful to have had the opportunity and would HIGHLY recommend to anyone in a similar situation.
Senior Customer Response Agent
CX Skills is a specialist training business that only delivers contact centre, customer experience, customer service and leadership related courses facilitated exclusively by industry professionals.  We're one of the founding members of the Australian Customer Experience Professionals Association (ACXPA) and we are committed to helping Australia to be recognised as global leaders in Customer Experience.
We've trained thousands of staff across a diverse range of businesses and we're proud of the amazing customer testimonials we've received directly and on Google reviews (the most recent listed below) so you can rest assured your training is in good hands.
Contact Centre Manager Training Course Options
Learn more about the different training courses that are suitable for contact centre managers by clicking on the buttons below or see a list of all the upcoming courses you can purchase tickets to at the bottom of this page.