Hurry! Only a few places remaining.

 
February 2022 Live Chat Customer Service Training Course

(for frontline employees)
Today, the use of Live Chat conversations is growing amongst the Contact Centre industry as customers continue to use different channels to engage with your business using channels that are most convenient to them.
Unlike voice/phone conversations which have their own set of skill requirements, there are some unique considerations for handling customers who choose to use Live Chat to contact your organisation.
As this form of contact is in writing, most organisations are highly sensitive with regards to the protection of their brand and image, as well as overall courtesy and writing skills.
In this February 2022 Live Chat Customer Service training course, we address the role of Live Chat in the Customer Experience, the 5 most important mistakes to avoid, the use and abuse of pre-scripted functionality and we teach agents the overall 4-Step structure to ensure enquiries are handled with finesse.
If you currently have employees/agents handling Live Chat conversations with customers – this course is designed to help them deliver a high quality of customer service via Live Chat.
If you are looking to introduce the live chat channel or you are already accountable for Live Chat in your business, then we also have a live chat course for managers >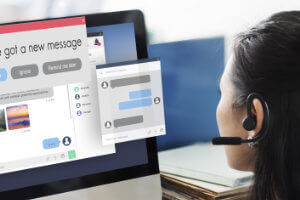 February 2022 Live Chat Customer Service Course Fast Facts:
8 hours of live training across two half-days (2 x 4-hour sessions)
Our February 2022 Live Chat Customer Service training course for frontline employees is split into 3 great modules across two half-day (4-hour) sessions.
Module 1: Expectations, Alignment and Customer Access
Whilst we spend the bulk of this course teaching employees how to have great live chat conversations, it always helps to have a big picture of what you want to achieve.  A purpose, a mission – a vision.  Call it what you will.
To help Frontline Team Members succeed in the chat channel we look at the different ways organisations use the channel – and what really drives Customer Satisfaction with Live Chat.
Service, Sales or Technical Support? How do Customers use Live Chat?
Defining Customer expectations for the Live Chat channel.
Key Drivers of Customer Satisfaction with 'On-line' Services.
Customer Access Strategy for Live Chat.
Module 2. Hygiene Factors for Live Chat
Hygiene factors are the basics.  Getting the basics right is expected.  But getting the basics wrong is all too easy sometimes.
In this section, we cover what those basics are and how to make sure they stay in tip-top shape.
Service Level and Response Time.
The use/abuse of pre-scripted "functions" (Where they came from – where they will go – it's a journey).
Understanding conversational direction change.
Module 3. The Four-Step Process for Managing Live Chat Conversations 
Now comes the fun part! This is where we spend most of our time on this course – learning how to have great conversations on Live Chat.  Our 4-part structure along with practical tips at each step of the way makes it possible.
Greet, Listen and Control KPIs and behaviours.
Solution

How to Present a Problem Solving Solution
How to Present a Product & Service Solution
How to Present and Order Taker Solution
How to transfer the chat to a different channel
About Your Trainer, Daniel Ord
Your trainer for the February 2022 Live Chat Customer Service training course is Daniel Ord from OmniTouch International – recognised as one of the leading customer experience and contact centre trainers in the world.
Daniel has trained over 50,000 participants across over 40 countries and is regularly featured in leading customer management publications and he has been a regular visitor to Australia for over 20 years.
Credentials-wise, Dan is a Certified Customer Experience Professional (CCXP), one of only a handful of recognised CXPA trainers in the world, an International Customer Management Institute (ICMI) Certified Associate, a Call Centre Industry Advisory Council Training Partner (CIAC), Net Promoter Certified and Daniel was the first to bring professional management level Contact Centre certification to Asia back in the early 00s (he was based in Singapore for 20 years).
Daniel is consistently regarded as the best trainer in the industry with his incredible subject matter expertise, excellent storytelling with real-world examples, a great sense of humour and a clear passion for the industry and helping people excel.
So it's not surprising to note that despite all the numerous industry accolades and recognition, it's the Customer Testimonials Daniel is most proud of and you can read a selection of his recent testimonials below.
Customer Testimonials for Daniel Ord
Informative, Educational and Fun!
Review of June 2022 Contact Centre Management Fundamentals
A great course that supports Call Centre managers, no matter what their experience!
Strongly encourage anyone who manages a Call Centre, or has a Call Centre in their department to sign up and take this course! You won't regret it.
Review of June 2022 Contact Centre Management Fundamentals
Daniel has an amazing ability to connect with people. He is very personable, and has this amazing ability to bring training content to life!
Queensland University of Technology
How and when its delivered
The February 2022 Live Chat Customer Service training course is delivered as two half-day (4-hour) sessions on consecutive days delivered via Zoom Teleconferencing. This is a public course meaning it is available for anyone to book and the times, dates and duration are fixed to enable you to plan ahead.
Dates don't suit?
Check to see other upcoming Live Chat Customer Service training courses or, if you would like to have more flexibility on the dates, times, content and duration or want a course just for your team/group please refer to our private training options.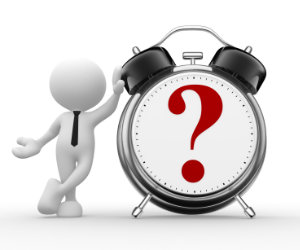 This course will be held on:
Monday, February 14th, 2022  13:00 to 17:00 AEDT (Melbourne)

Tuesday, February 15th, 2022 13:00 to 17:00 AEDT (Melbourne)
CX Skills is a specialist training business that only delivers contact centre, customer experience, customer service and leadership related courses facilitated exclusively by industry professionals.  We're one of the founding members of the Australian Customer Experience Professionals Association (ACXPA) and we are committed to helping Australia to be recognised as global leaders in Customer Experience.
We've trained thousands of staff across a diverse range of businesses and we're proud of the amazing customer testimonials we've received directly and on Google reviews so you can rest assured your training is in good hands.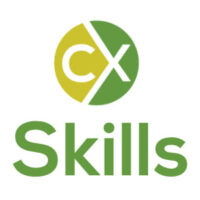 The February 2022 Live Chat Customer Service training course, is $497 per person ex GST for 8 hours of live facilitated learning (2 x 4-hour sessions) delivered by world-famous CX & Contact Centre training expert Daniel Ord.
Save 15%  if you purchase tickets for 3 or more employees in the same transaction (Discount applied on the final checkout stage).
You can pay by credit card or invoice – just select your preferred method on checkout.