Customer Service Excellence – March 2021
March 4 @ 1:00 PM

-

March 5 @ 5:00 PM

AEDT
|
$497.00
Course Navigation
The Ultimate Customer Service 'Excellence' Training Course
Our March 2021 Customer Service Excellence training course is our flagship Customer Service course for Frontline Team Members in Contact Centres & Face to Face Environments.  Because while it's easy to pass off great service skills as 'common sense' – Customer Service professionals know there is an art & science to having a great customer conversation.
And there's a reason this program and variations of it have been our single most popular frontline training course for 20 years around the world.
No scripts, we teach our proprietary techniques, patterns and ideas around serving customers better that will empower your agents to deliver outstanding customer experiences call after call.
And as with all our courses, you'll have fun doing it! Lots of stories, techniques, role plays and more will make sure the learnings come to life and are easily put into practice.
With 8 hours of live facilitated training (delivered over 2 x 4-hour sessions) this course is designed to super-charge the customer service skills of any employee who handles customers over a phone channel.
March 2021 Customer Service Excellence Training Course Highlights 
Built for online training!
Whilst we have delivered this course face to face in a classroom-style (in a pre-COVID world!) for decades, we have now adapted this course to be delivered online using Zoom teleconferencing.
Our March 2021 Customer Service Excellence training course is our most comprehensive frontline agent course available covering all the skills you need as well as mindset and knowledge that help people to apply what they've learned – and we can do it all online.
This course is delivered via 2 x 4-hour sessions (4 hours per day for two consecutive days (a total of 8 hours of facilitated live training).
Who should do this course?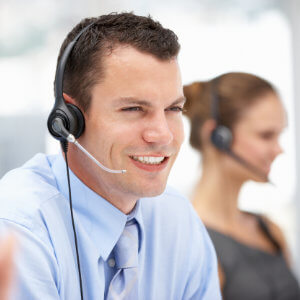 The March 2021 Customer Service Excellence training course has been designed to equip participants with skills required to excel in a contact centre/customer-facing work environment.
The 2 x 4-hour sessions have been designed to be delivered in a structured manner enabling students to progressively build their skills with lots of checkpoints along the way to ensure the learning is sinking in!
The skills we teach are applicable to all industries, products and services!
Typical roles include:
Call centre agents (sales or service)
Customer service staff
Telephone account management
Complaints teams (if you handle lots of complaints check out our Managing Difficult Customers course)
If you have someone who is new to call centre or customer service please also check out our Customer Service Essentials courses or our Customer Service Professionals courses.
Over 8 hours of facilitated learning, our March 2021 Customer Service Excellence training course is designed to equip Frontline Contact Centre Agents with the skills & knowledge to deliver outstanding customer service & care over the phone.
Despite the use of many new channels today, the 'voice' channel remains popular around the world for most organisations and for many customers, it's this human interaction can be the difference of them staying as a customer, or leaving your company for good.
We've never been big believers in the use of scripts in the contact centre. That takes away from the humanity of the conversation.
But we believe strongly in patterns, techniques and ideas around serving customers better and you'll learn our proprietary techniques that have been continuously refined across decades of experience and used by thousands of elite contact centre professionals across the world.
Module 1 – Understanding Service
We begin with understanding what service means, how Contact Centres approach service and why great service delivery is more than a matter of 'common sense'.
What are Customer expectations for phone-based service?
Where is the Contact Centre industry headed and why that matters to you
What is a KPI and why does your organization care about it?
Compliance vs. Calibre – and how you can shine
Call assessment – what do you think?
Let's define Service
Module 2 – Greet
We introduce our 4-Step process for managing inbound contacts and launch directly into the Greet Step and what it takes to start things off right.
Define when the Customer experience begins and why that matters to Agents
Understand the aspects that create a great first impression
The role of Journeys & Touchpoints
Why Occupancy sometimes hurts our image
What does a good Tone of Voice really sound like?
Summing up the Greeting and how to know we did it right
Module 3 – Listen
The Listen Step belongs to the Customer – but this step in the process requires a lot of skill on the part of the Agent.  Using Enquiry Reconfirmation, Human Touch and Humanity well takes know-how and consideration.
And because of the importance of word choice in any human conversation, we look at how to avoid the negative when speaking with Customers.
Common listening mistakes
The role of Enquiry Reconfirmation & mirroring
The role of Humanity
The 5 Levels of Human Touch and how to decide which to use
How to Avoid the Negative
Positive & negative word choices
Summing up the Listening step and how to know we did it right
Module 4 – Control
The Control Step belongs to the Agent – because the transition into Control is where the Agent 'takes over' and guides the conversation.
And that matters a lot – because Control is how we demonstrate expertise and organize ourselves to deliver a great solution.
Why Control = Expertise
The transition phrases that work
Avoid the Answering Machine trap
Avoid the Brochure Reader trap
What does branching mean and how can I use it?
Summing up the Control step and how to know we did it right
Module 5 – Solution
The entire purpose of the Customer reaching out to us lies here. Customers want a solution.
And with that said, solutions come in different 'types'.
Product & Service enquiries, Problem Solving enquiries, Order Taking enquiries – even Basic enquiries.  The key is to understand which kind of solution, what behaviours make it work and then deliver that well.
How to transition into your Solution
How to handle a Basic Enquiry that wows people
Presenting a professional Product & Service Solution
Presenting a professional Problem-Solving Solution
Presenting a professional Order Taking Solution
Summing up the Solution step and how to know we did it right
Call assessment – what do you think now?
Summing it all up
Your trainer for the March 2021 Customer Service Excellence course is Daniel Ord from OmniTouch International – the leading contact centre trainer in the world with his courses regularly selling out across the globe.
Daniel has trained over 50,000 participants across over 40 countries and is regularly featured in leading contact centre publications and he has been a regular visitor to Australia for over 20 years.
Participants consistently rank Daniel as the best trainer they've had with incredible subject matter expertise, excellent storytelling with real-world examples and of course, a great sense of humour so you'll have some fun while you learn!
Credentials-wise, Dan is a Certified Customer Experience Professional (CCXP), an International Customer Management Institute (ICMI) Certified Associate, a Call Centre Industry Advisory Council Training Partner (CIAC), Net Promoter Certified and the first to bring professional management level Contact Centre certification to Asia back in the early 00s.
Like to learn more about Daniel? Read some of Daniel's articles on CX Central, listen to some Podcasts on the CX Hustle or view Daniel's profile on linkedin.
"Interesting, fun & easy to understand because there's a lot of examples."
"I always enjoyed the examples & explanation provided by Daniel."
"I really enjoyed the training, it was very interactive."
"The training is fun, a good way to reflect the real experience in customer service and resolve some of the personal or emotional issues."
"It's a great lesson to learn to handle different agents/customers."
"The training exceeded my expectations as it's very interactive."

"Very useful and easy to understand materials."
"Training is just perfect. Especially now after being so routine with the job, the training gives me more perspective in my job."
"The contents were well distributed and ample time was dedicated to each area."
"Well conducted. The training was interesting and informative.
"This is the best course I have taken so far. Daniel was very good. The course touches on current issues. Roleplays were very useful."
It was excellent! The only wish was I should have arranged for this course earlier!
CX Skills is a specialist training business that only delivers customer experience and customer service related courses facilitated exclusively by industry professionals. Our main website, CX Central is Australia's most trusted website for contact centre and CX professionals in Australia and we also manage the popular Call Centre Legends Facebook page followed by over 30,000 call centre employees.
As well as training solutions, we also provide CX & Contact Centre consulting services using the same practices, processes and methodologies that we use in our training courses so you can rest assured you'll be learning best-practice skills that work in the real world.
How and when it's delivered
The March 2021 Customer Service Excellence course is delivered via Zoom Teleconferencing and users will be sent any required materials prior to the course commencing.  This is a public course meaning it is available for anyone to book and the dates and times are fixed to enable you to plan ahead.
If you would like to have more flexibility on the dates, times and content refer to our private options.
The March 2021 Customer Service Excellence Training Course will be conducted on:
Session 1 – Thursday 4th March 2021, 1:00 pm to 5:00 pm AEDT
Session 2 – Friday 5th March 2021, 1:00 pm to 5:00 pm AEDT
Pricing and Payment Options
The March 2021 Customer Service Excellence Training course is just $497 per person ex GST for the entire 8 hours of facilitated learning (2 x 4-hour sessions) delivered by global contact centre & CX expert Daniel Ord.
Want to register more than 3 staff? Save 15% when booking in the same transaction (note: the discount will be applied on the final checkout page).
Purchase now:
Tickets to the March 2021 Customer Service Excellence course can be purchased online using a credit card or requesting an invoice at the top of this page. If you have further questions please contact us on +61 3 9008 7287 or send us a message. Our office is open Monday to Friday 8:30 am to 5:30 pm Monday to Friday AEDT/AEST.